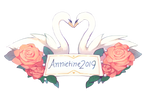 To take part of our lovely community, please join our Discord!
By purchasing an Annie you agree to the
ToS.

Read more about the event here! ♥

DESIGNER

How many Blessings: 2
Rarity: Uncommon
Eyes: Uncommon heart shaped pupils
Description of blessings and Annie:

The release dove is often used in wedding ceremonies, giving it a strong relation not only to true love, but to life long commitment.
During these ceremonies, both the bride and groom release two birds by hand, and later a larger group to follow them.
Release doves are very intelligent, and are often able to return safely after being used in ceremonies. Their accuracy is often compared to that of racing pigeons.
The release dove is also known as a white pigeon, and is usually bred to resemble white doves, that only occur in nature by means of albinism.
Carnations are very resilient flowers, that symbolize pure love and fascination. Come believe that the origin of the title 'carnation' was derived from the word "corone",
meaning flower garlands, while others believe that the word comes from the word "coronation" as they were used in Greek ceremonial crowns.
Peach carnations in particular tend to mean "I will never forget you"
Optional Personality:

This annie's heart is full to the brim with passion and love! She is very committed, with two blessing that symbolize life long, undying love.
She will never give up on her partner, no matter what difficulties they may face. She wears both of her blessings very proudly,
with carnations decorating her extravagant head piece and lace on her accessories. Her hair is pure white, much like the release dove, matching the wings on her dress.
To show her commitment to and adoration of love, she wears many heart shaped accessories, and even has heart shaped pupils!
AUCTION STARTS AT 180$
SB: 180$
Min Increase: 5$
AB: 450$
Auction ends after 24H after last bid.
Image details
Image size
500x587px 301.55 KB