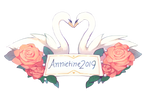 To take part of our lovely community, please join our Discord!
By purchasing an Annie you agree to the
ToS.

Read more about the event here! ♥

DESIGNER

How many Blessings: 2
Rarity: Uncommon
Eyes: Common round
Description of blessings and Annie:

Galah is one of the most widely spread cockatoos in Australia, they are like the pigeons of Australia,
(
this certainly doesn't mean that they aren't beautiful and exotic looking)!
They cover almost the whole area except Tasmania where they are way lesser in number.
Galah can be seen living anywhere from woods to savanna all the way to the coasts. They live with a partner or in a herd,
some herds reaching over 100 birds head count. Since they live in such warm country they eat in the mornings on the ground level,
and head back to trees when the sun gets up til it goes down again for the evening. So most of their days they try to stay cool between the leaves of the trees.
Galah is approximately 35cm (14 inches) tall bird and mainly covered in pink feathers, only their wings and tail are covered in grey feathers instead
(exception being their feathers under the wing being also pink).
Impatiens hawkeri, also known as New Guinea impatiens, is a very popular plant in the U.S. gardens today.
It's species is native to New Guinea, the Solomon Islands and New Ireland. This plant was found originally in Papua New Guinea in 1884,
but was introduced to the western world only in the 70's. New Guinea impatiens are so called larger plants,
with larger flowers which results them to be able to survive better in part shade areas than the other popular standard impatiens.
They are commonly grown in more shaded areas with not much tolerance for warm mid day sun.
Optional Personality:

This Annie loves the warmness and sunshine of the area shes from and is usually dressed lightly yet still very sweet way.
She loves to sing and dance with her friends and enjoy lifes best gifts.
She usually dresses up in white clothing but likes to highlight her appearance with gold that shimmers under the hot sun.
Though she loves to have fun in the sun, she also needs rest in the shades and goes to cool down from time to time in between the fun!
This Annie girl is full of love and appreciation for other beings, she loves to meet up new friends and have fun with everyone!
AUCTION STARTS AT 180$
SB: 180$
Min Increase: 5$
AB: 450$
Auction ends after 24H after last bid.
Image details
Image size
2138x1533px 12.52 MB