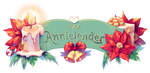 To take part of our lovely community, please join our
Discord!
By purchasing an Annie you agree to the
ToS.

Read more about the event here! ♥

How many Blessings: 1
Rarity: Common
Eyes: Common round pupil
Description of blessings and Annie:

White-tailed ptarmigan,
Lagopus leucura,
also known as the snow quail is the smallest bird in the grouse family.
It's native to the cold mountains of northwestern America, and wholly white in winter. The genus name Lagopus comes from lagos,
hare, and pous, foot, referring to the bird's feathered legs, and the species name leucura comes from leukos, white, and oura, tail.
It often avoids flight in the winter to conserve energy and roosts in snow banks.

Optional Personality:

The cheeks of this sweet Annie are more often than not rosy, whether it is from being out in the cold or getting flustered.
She's gentle and surprisingly secretive, carrying around a golden key for... something?
Similarly, the origin of her halo accessory and bandages are mysteries to many.
She loves sharing a space with others, wanting to cuddle for warmth and hold hands instead of using gloves,
but she always ends up being too shy to ask for physical contact.
In her heart, she only hopes to be an angel for everyone around her.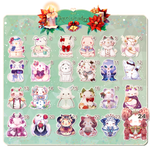 Image details
Image size
839x952px 851.36 KB