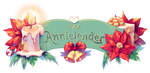 To take part of our lovely community, please join our
Discord!
By purchasing an Annie you agree to the
ToS.

Read more about the event here! ♥

How many Blessings: 1
Rarity: Common
Eyes: Common pupil
Description of blessings and Annie:

Reindeer are one of the most iconic animals associated with the Christmas season!
In legend, they're said to fly, and pull along santa's sleigh through the sky as he delivers
gifts to young boys and girls across the world!!!! This reindeer has a fluffy snow white coat,
and littler antlers, as they are still growing in!!

Optional Personality:

This soft-spoken Annie may come across very aloof and distance at first due to her mild-mannered expression.
However, she can be very social and loves being surrounded by a herd of reindeer.
Her own personal herd can consist of as many as 500,000 reindeer depending on the time of year!
She is a vegetarian, like her blessing, and excels at being able to find food even in the harshest winters.
During winter, this beautiful Annie will depart with her herd to help guide them safely through their migration,
doing everything in her power to ensure their survival from those that may wish them harm.
Though social and sweet, this Annie will protect herself and her herd without a second thought
and may use the antlers atop her head as weapons if angered.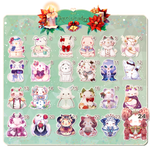 Image details
Image size
3328x5044px 17.85 MB