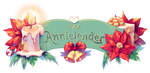 To take part of our lovely community, please join our
Discord!
By purchasing an Annie you agree to the
ToS.

Read more about the event here! ♥

How many Blessings: 2
Rarity: Uncommon
Eyes:
Uncommon Star Shaped Pupils
Description of blessings and Annie:


Description of blessings and Annie:
Polish chickens are a breed of ornamental chickens,
known for their striking crest of feathers that adorns their head.
Despite the special additions, however, they limit their vision
and more often than not affects their temperament,
making them skittish and easily spooked.

Due to their unique appearance, people came to start raising
them as show birds, flaunting their peculiar look in contests
for a chance to win the first prize.

Poinsettia, also known as the Christmas Flower, is a plant
commonly found during the season of giving because of its colors
that befit the time of year. Its red, white, cream and marbled bracts
tends to give the idea of petals, when in actuality it's the plants leaves.

The actual flowers of the plant is located at its middle,
little curious-looking structures called cyathia.
Poinsettias are often found in wild tropical forests,
and hot, seasonally dry forests.



Optional Personality:


This Annie downs a fluffy head of hair that pays homage to his blessing,
its texture soft and smooth to touch, much like your typical polish chicken.
Poinsettias adorn his hair and outfit, contrasting its cool, dark blues
with its warm reds and yellows, giving it a splash of festivity in his wardrobe.
A musically inclined Annie who loves to take part in shows,
specially musicals, much like the show bird he's raised to be.
His voice pulls on the heart strings of humans and Annies alike,
bringing a sense of warmth and love no matter the season.
Gentle with a touch of a deep baritone that plays with the
smooth dips and tunes of music, he's sure to capture your eyes
and heart whenever he's the star of a show.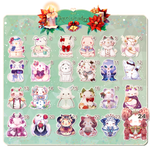 Image details
Image size
1500x1594px 3.04 MB