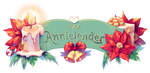 To take part of our lovely community, please join our
Discord!
By purchasing an Annie you agree to the
ToS.

Read more about the event here! ♥

How many Blessings: 2
Rarity: Uncommon
Eyes: Common
Description of blessings and Annie:


Description of blessings and Annie:
The Peary Caribou,
a subspecies of the North American Reindeer, is the smallest of their species.
Both males and females have antlers, and thick white fur in the winter.
This species is sadly endangered, and have had their numbers decrease from 40,000 to only 700 in recent years.
They feed on anything from grass to flowers, even known to be seen having purple-pink muzzles from eating pink flowers!
Moss Campion
is an arctic flower that is found in northern mountain regions.
This tundra plant can survive the harshest of winter conditions, growing close together in clustered formations.
These pretty pink flowers only bloom for a few weeks a year during the summer, so view them while you can!

Optional Personality:

This tiny girl is the smallest one in her friend group!
Her baby face and big hood give her the perfect innocent look, and she's typically clueless as to whats going on.
Oblivious and gullible, she is always second guessing herself, as she has been taken advantage of much in the past.
Her big clothing gives her comfort, she tries hard to make herself look bigger through clothing so others don't think she's vulnerable and small.
Her large bag and hood are her favorite accessories, they bounce beside her wherever she goes!~ <3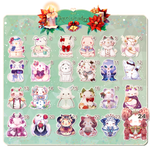 Image details
Image size
2500x2300px 3.39 MB