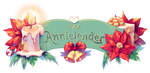 To take part of our lovely community, please join our
Discord!
By purchasing an Annie you agree to the
ToS.

Read more about the event here! ♥

How many Blessings: 2
Rarity: Uncommon
Eyes: Common
Description of blessings and Annie:


Description of blessings and Annie:
The Victoria plum is a type of English plum. It has a yellow flesh with a red or mottled skin.
Plums can be found in a variety of different types each with their own distinct colour and taste.
Plum trees can be found around the world each with their own unique flowering season.
Despite its name, sugar plums are not made with actual plums and are instead hardened sugar balls.
The Common Blue is a small blue butterfly which flies throughout the summer between April and October.
The most widespread of the blue butterflies, it is found in a variety of habitats including heathland, woodland rides,
grassy meadows, parks and even large gardens.

Optional Personality:

Snow flecked the ground like sprinkled sugar as a figure takes centre staged.
With only the moon and stars to act as stage lights,
this Annie lets the night air guide him as he begins a waltz across the ice.
"Wouldn't it be easier to simply fly across the lake?" a small voice asked,
eyeing curiously at the blue wings sprouting from his back.
"Maybe so, but then what use would my legs be?" the butterfly Annie replied with laugh,
finishing his performance with a twirl and a bow.
"What use is practicality if not for the sake of being able to perform a task with beauty and grace?"
The small voice looked more puzzled than before, giving a small shake of their head as the snow began to pile.
There was no mistaking that a dance across the ice was much more elegant than flight,
and as the moon flickered light across his satin cape and strawberry curls the small voice couldn't help but be mesmerized.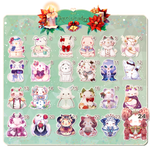 Image details
Image size
3304x3731px 4.87 MB