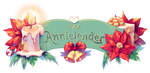 To take part of our lovely community, please join our
Discord!
By purchasing an Annie you agree to the
ToS.

Read more about the event here! ♥

How many Blessings: 2
Rarity: Uncommon
Eyes: Common
Description of blessings and Annie:


Description of blessings and Annie:
"Legend has it, burning a bayberry candle from tip to socket puts luck in the home and gold in the pocket"
Bayberries are a staple when it comes to the Christmas season, whether it be for their scent, appearance,
or for their wax, which is made into candles! Traditionally, bayberry candles are given as a gift from a friend,
and burned in their entirety on either Christmas eve, or new years Eve.
This is said to bring luck and riches to anyone who practices it!!
Bayberries tend to come in a range of colors,
from white, to a brilliant red, and even to a deep plum color!
Their scent is said to be reminiscent to that of balsam,
but they actually have a very bitter flavor!
Fennec foxes are best known for their distinctly large ears.
Usually calling deserts their home, these large ears actually
serve well to dissipate heat,
as well as offer for excellent hearing! Their coats are usually very fluffy, and cream in color,
allowing the fox to stay warm at night, but also not to absorb too much heat during the day!

Optional Personality:

This Annie spends lots of her time in the kitchen!
Having a love for the holidays, she is a very passionate cook,
her favourite things to bake being warm, comforting foods!
She has a strong connection to both of her blessings,
with the tail and ears of her Fennec fox blessing,
as well as its' intolerance for cold weather.
Decorating her tail and ears are bayberries,
which give her a lovely aroma,
that follows her wherever she goes!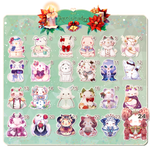 Image details
Image size
2072x2784px 5.08 MB