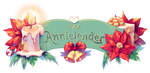 To take part of our lovely community, please join our
Discord!
By purchasing an Annie you agree to the
ToS.

Read more about the event here! ♥

How many Blessings: 1
Rarity: Common
Eyes: Common round pupil
Description of blessings and Annie:


White crane is Symbolizes as wisdom, faithfulness, and vigilance.
They live on all continents except Antarctica and South America.
Cranes may conceivably be the oldest bird on earth.
Throughout all of Asia, the crane has been a symbol of happiness and eternal youth.
In Japanese, Chinese, and Korean tradition, cranes stand for good fortune and longevity,
because of its fabled life span of a thousand years. The Japanese refer to the crane as "the bird of happiness;"
the Chinese as "heavenly crane" believing they were symbols of wisdom. The powerful wings of the crane,
were believed to be able to convey souls up to heaven and to carry people to higher levels of spiritual enlightenment.

Optional Personality:

" Listen To The sound Of the Snowing "
He born in a blizzard and with a great power of controlling the ice and snow element.
He was gifted with a powerful magic that grant him a tittle as the Frozen Onmyouji,
who take all those responsibilities of protecting the border between Annies
and the realm of blessings,
at the Frozen Temple that located on the deepest side of the Eastern Snow Land.
After a tremendous war that
occurred
, he lost a few of his allies,
and the young Onmyouji became solemn and cold, silent and full of sorrow.
When he riding on the wind of travels, there's only snow and ice keeping his company.
Until now, he's still guarding the boundary of the two realm, but no one ever be able to
melted the coldness that covered his heart.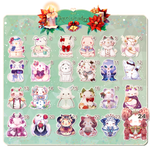 EXTRA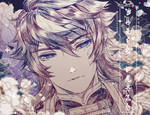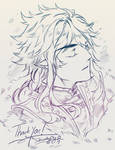 Image details
Image size
1500x1402px 2.04 MB