DESIGNER
How many Blessings: 1
Rarity: Common
Eyes: Common round
Description of blessings and Annie:

The Japanese macaque also known as the snow monkey,
is a terrestrial
Old World monkey species that is native to Japan.
They get their name
"snow monkey" because they live in areas where snow covers the ground
for months each year –
no other primate is more northern-living, nor
lives in a colder climate. Individuals have brown-grey fur, red faces,
and short tails.
The coat of the macaque is well-adapted to the cold
and its thickness increases as temperatures decrease.
The macaque
can cope with temperatures as low as -20 °C.
The Japanese macaque is a very intelligent species, being known for
washing and seasoning their food in the ocean.
It has other unusual
behaviours, including bathing together in hot springs and rolling
snowballs for fun, and has been found to develop different accents,
like humans.
Macaques in areas separated by only a few hundred
miles can have very different pitches in their calls,
their form of
communication.
Optional Personality:
This Annie is super pampy and formal! She is likely a hostess or hot springs owner of some sort, as she enjoys warming up during cold winters.
The markings on her clothing and parasol indicate her respect for nature.
Her hair is wild in its own right, and shows her feisty beauty!
She is able to keep warm herself due to her blessing, but she adores fluff and fashion!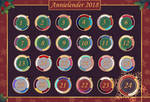 To take part of our lovely community, please join our Discord!
Image details
Image size
904x848px 749.43 KB