DESIGNER

How many Blessings: 1
Rarity: Common
Eyes: Common round
Description of blessings and Annie:

This unique flower resembling a timid angel is usually found high up the mountains, at at least 1000 meters(3280feet) high.
Native o southern India, this flower loves to bloom on open grasslands.
Attracting many spectators to witness this beauty at the mountain peaks.
It's only leaf, heart shaped and rounded, lies flat to the ground.
With around 5 petals it creates a cute little groups of miniature flowers.
Optional Personality:

Small in stature and timid, just likes it's flower, this Annie prefers the calm.
His skin pale due to his great connection, and a huge hoodie made out of the flower itself,
this Annie is a tiny, yet interesting, sight to behold.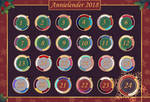 To take part of our lovely community, please join our Discord!
Image details
Image size
2256x2340px 3.98 MB