DESIGNER
How many Blessings: 1
Rarity: Common
Eyes: Common round
Description of blessings and Annie:

The European turtle dove (Streptopelia turtur) is a shy little bird which is widespread in Europe, thriving in the spring and summer.
They have warm colored feathers with an orange and black 'spotted' pattern on their wings.
The 'turtle' in the species name comes from the similar sound of its latin name 'turtur', which was chosen because the birds make a "turrr, turrr" sound.
They are also featured in the popular Christmas song, The 12 Days of Christmas!

The birds prefer sheltered forested areas to live in because of their shy personalities.
They are not endangered, but there has been a drop in their population due to the destruction of their habitats, hunting, and herbicides destroying food sources.

Optional Personality:

This Annie, however, thrives as a gorgeous dark-clothed beauty, adorned with copper-y accents.
She is adorned with many wing shaped and accents which show off her blessing very well.
Her long white hair is also a perfect contrast to her dark outfit.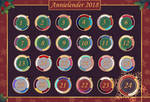 To take part of our lovely community, please join our Discord!
Image details
Image size
3312x3455px 6.65 MB