DESIGNER
How many Blessings: 1
Rarity: Common
Eyes: Common round
Description of blessings and Annie:

The Maran is a breed of chicken from the port town of Marans, in the département of Charente-Maritime, in the Nouvelle-Aquitaine region of south-western France.
It was created with the local feral chickens descended from fighting game chickens carried from Indonesia and India.
Those original Marandaise fowl were "improved" for the table through recombination with imported Croad Langshans.
A favourite at poultry shows, it is a dual-purpose fowl known both for its extremely dark eggs and fine meat qualities.
♥Winner receives: flat color vers + unwatermarked vers♥
Optional Personality:
This proud and

fierce

lady won't be ordered around by anyone. She is her own boss and would order anyone around she sees.
She is pampered through and through but also mature enough to not throw a fit in public.
But if you upset her she will make you regret it. Her hobbies include traveling, drinking fancy wines, buying the newest fashion and staring at diamonds.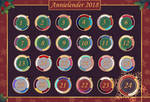 To take part of our lovely community, please join our Discord!
Image details
Image size
828x966px 704.34 KB