DESIGNER
How many Blessings: 2
Rarity: Mythical
Eyes: super rare glowing fire pupils
Description of blessings and Annie:

The White angel snowflake flower, otherwise known as the
Wrightia antidysenterica,
is a beautiful pure white an arctic flower that is commonly found in parts of Asia and the Pacific Islands.
This plant even has healing properties that are used to treat abdomen related illnesses. Some also call this flower the "white angel."
There are five petals with a small center that looks similar to a snowflake, hence the name.
This flower is known to attract many hummingbirds and butterflies.
A Phoenix is magnificent mythological creature that is bright and fiery. This animal has flames surrounding it, and is said to be born by rising from ashes.
This monumental bird is also said to be reborn again after death. Typically, a phoenix symbolizes rebirth, new beginnings, and triumph through difficult times.
It is a vibrantly colored orange, red, and yellow bird to represent the flames that it is connected with. This legendary creature is also said to have a very large stature!
Optional Personality:

This Annie looks nothing short of a goddess. She has an unprecedented amount of wings to represent her Phoenix blessing and warm fiery colors all over.
The bottom of her long tight dress fans out like flames, and her large floor length drill curls are a flaming orange-yellow.
Despite her fierce features, she has a very motherly and strong aspect to her. She is the type to depend on when an emergency happens,
as she is a reliable and sturdy girl. She has many winged details and accessories,
like the bundle of wings at the bottom of her dress and a thin shawl with feathers on the end.
This annie will do her best to protect you, so make sure you respect her.
❤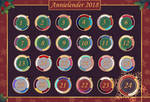 To take part of our lovely community, please join our Discord!
Image details
Image size
3000x3246px 9.89 MB