DESIGNER

How many Blessings: 2
Rarity: Supe rare
Eyes: super rare glowing firefly pupils
Description of blessings and Annie:


Poinsettia flowers are known in many areas of the world for representing the holiday season proudly and beautifully!
in several cultures, they are well recognized as a Christmas staple, being known by alternative names such as the santa claus flower, and the christmas eve flower!
Poinsettia flowers are very easily identifiable due to their vivid red petals that grow in a leaf like pointed shape.

Fireflies are a type of beetle that can be found nearly all around the world, and have many varying features.
Typically though, male fireflies are the only ones that glow to show off their bright light and attract partners.
For instance, some fireflies do not even glow! The glowing light of a firefly can be anywhere from yellow, green, or orange.
They produce the glow with their "light organ," a special organ where they combine chemicals make the bright glow. They mostly live off of smaller insects and pollen from flowers.
This bioluminescent beauty shines so brightly, you will be instantly drawn to her.

Optional Personality:

This Annie is a very traditional girl, always bundled up in her hakama, and with her big umbrella decorated with glowing orbs and poinsettia flowers!
Her life is dedicated to her job as a priestess, and so, wears her blessings very proudly, but conservatively.
To show off her firefly blessing, she wears lots of glowing orbs, in her hair, on her umbrella, her hair accessories, and the bright glow in her eyes.
With poinsettia flowers decorating her umbrella, and dress, she's ready to spread Christmas cheer everywhere she goes!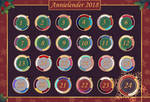 To take part of our lovely community, please join our Discord!
Image details
Image size
600x538px 258.53 KB