DESIGNER

How many Blessings: 1
Rarity: Super Rare
Eyes: Super rare glowing wing pupils
Description of blessings and Annie:

Snowy Owl is a bigger size owl species that lives in the tundras of the world.
They are used to arctic climate and since their feathers are almost completely white they can get cover in the snowy parts of the land.
It is very common for these owls to travel big distances, thousands of kilometers, looking for food or travel after nesting season.
Snowy owl is close to being endangered and has been almost completely vanished already from many places, from Scandinavia for example.


Optional Personality:


Due to her incredible strong connenction to her owl, she is able to manifest glowing wings in her pupils,
show her passion for her specie. As well as portraying huge wings that actually can be used practically or as a defensive mechanism!
However this Annie also enjoys warm clothing in the cold weather she has to bear.
She doesn't let the coldness bother her fashion taste though and she loves to show what a snow queen she is.
She might be a rare gem to find in parties and social events as with this owl blessing she enjoys her own company and traveling alone the most.
She loves to see the world and enjoys the scenery of the colder side of the world.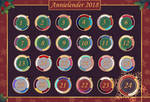 To take part of our lovely community, please join our Discord!
Image details
Image size
2204x1480px 12.46 MB