DESIGNER

How many Blessings: 2
Rarity: Uncommon
Eyes: Uncommon cat based pupils
Description of blessings and Annie:

Norwegian forests cats are built for cold climates and wintertime! They have a large fluffy weatherproof coat of fur with an extra insulated undercoat.
They are also a very strong and hearty cat, they can climb things such as trees and rocks because of their strong claws (very fitting for a breed of cat descended from Viking cats).
They are otherwise very friendly and intelligent cats, being hunters at heart who love to play and have fun.

Wintersweet (Chimoanthus praecox) is also another winter-adapted blessing that this Annie has. The plant has simple green leaves in usual plant blooming times,
but uniquely produces pleasant-smelling yellow flowers in the winter. They are mainly found naturally in China, Korea, and Japan, but can be grown elsewhere.
Better get an early start, since wintersweet can take up to 14 years to flower when grown from seeds!


Optional Personality:

This Annie's two winter blessings ensure that she is cozy no matter the weather.
She has a large fluffy fur shawl and bright yellow wintersweet adorning her warm red traditional Vietnamese áo dài inspired clothing.
This Annie may try to act regal and aloof, but she is actually always on the look out for something interesting and fun to play with!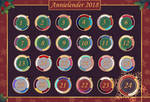 To take part of our lovely community, please join our Discord!
Image details
Image size
1500x2246px 2.4 MB