DESIGNER
How many Blessings: 2
Rarity: Uncommon
Eyes: Common round
Description of blessings and Annie:

The Arctic fox(Vulpes lagopus) also known as polar fox is a small fox native that inhabits the Northern Hemisphere and the Arctic Tundra Biome.
They are distributed throughout North of Eurasia and North America, including many islands to which they arrived in their days by walking on the ice.
The arctic fox has small ears and a dense layer of hair that allows it to survive and hunt at extreme temperatures (up to -50 ° C).
In the summer, this white coat of long fur changes to a grayish-brown coat of shorter fur.
They remain active all year round and are among the few animals that do not hibernate or migrate to other regions during the winter.
Camellia japonica
is the best known species of Camellia. It belongs to the family of the teáceas. It is a floral shrub or a small tree, native to Japan, Korea, China.
In the central zone of Chile, the city of Bulnes is known as the city of the camellias. Some bushes or trees can reach a size of 1.5 meters in height.
The young branches are grayish brown and the twigs of the current year are purple brown. The cultivars of Camellia japonica include 'Elegans' (large pink flowers and white spots),
'Guilio Nuccio' (red petals to pink and yellow), and 'Mathotiana Alba' (pure white flowers).
Optional Personality:

This Annie is a very shy and an adorable girl, usually with a blushing face. She loves stuffed animals and caresses them dearly.
It gives her a sense of comfort and protection. Its design is based on fluffy winter clothes adorned with a lot of lace, cotton puffs and pink ribbons that give beauty and adoration to her attire.
She adores the beauty camellia flowers and fills them in her hair and fluffy tail. She has two bells in her so you can hear the cute yet clear jingles as she walks. She also owns a third bell that she loves to carry around. Inside of it, she carries her precious stuffed animals.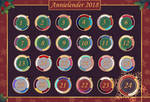 To take part of our lovely community, please join our Discord!
Image details
Image size
1800x1988px 2.73 MB