DESIGNER

How many Blessings: 2
Rarity: Uncommon
Eyes: Common round
Description of blessings and Annie:


Angel Glow Hellebores, sometimes known as the Christmas rose, are beautiful flowers that bloom in pink and white!
While some species of hellebores can be highly poisonous, they have been known in folklore to have been used to treat madness,
and in Ancient Greek culture to treat Paralysis.

The American Yorkshire pig is characterized by its small, somewhat floppier ears in comparison to the English Yorkshire pig.
Although pigs are viewed negatively in many cultures, if cared for well, they make incredibly sweet and intelligent pets!!
They are best known for their pointed ears, adorable pink color, and little curly tails!!


Optional Personality:

This Annie is very energetic and bubbly, overflowing with magic and charisma, and leaving smiles behind wherever she goes.
Very proud of her blessings, she wears them both conspicuously on her person at all times.
Her dress is adorned with hellebores, as well as the shape of the dress resembling the flower itself.
She wears hellebores flowers in all of her other accessories as well!

To show off her adorable pig blessing, she wears her hair in curly pigtails that bounce with every energy filled step she takes!
Above her pigtails lie one of her proudest features, her pointy pig ears!! They can often be seen flopping in the wind as she skips around,
singing and dancing her heart out, and casting spells!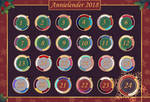 To take part of our lovely community, please join our Discord!
Image details
Image size
451x600px 210.94 KB