DESIGNER

How many Blessings: 2
Rarity: Uncommon
Eyes: Common round
Description of blessings and Annie:


The White-tailed deer is famous for its white under belly and tail. They're a very common type of deer, and unfortunately because of this, they
are a popular animal for hunting season. With a warm golden-brown summer coat and an icey grey-brown winter coat,
they can live almost anywhere from the Americas to all the way south in Peru and Bolivia because of their adaptability.
Baby fawns of this species have speckled white dots all over their top side, but they lose these spots as they grow older.
As they get older their coats also turn into a more faded grey and their snouts elongate. They can weigh around 100-400 lbs (50-200kg)!
This is also one of the few deer species where some female deer can grow large antlers as well, like their male counterparts.

Dark Red Carnations are a symbol of deep love and affection, especially towards women. They're also symbolic of motherly love thus used often as mother's day gifts.
Carnations originate from the Asian and Europe areas, and were first popularized by the Greeks and Romans.
They're known to stay bloomed for a very long time even after they've been cut, making them a very popular flower to buy and gift to a loved one.
They can grow from seeds or from cuttings, where they'll grow back from being cut. A special feature from carnations is that they can self pollinate,
as they have both male and female organs. They thrive in spring, but are still common to use around christmas time for their vibrant red colors!

Optional Personality:
This little cutie is as sweet as can be!! ♥♥♥ She's an absolute fluffball of sweetness, with her large fluffy coat, giant fluffy pigtails, and poofy layered dress!
Her pigtails are tied at the end with carnations from her blessing, bows, and red puffballs. She has light golden antlers with dangled jewels and flowers,
plus miniature antler decorations on the sides of her shoes. Her large head bow is reminiscent of a Christmas gift bow, along with her bows on the sides of her dress and right shoe,
making her very wintery and special. Her light blue hair and cool colors also make her perfect for the cold season~
She has speckles white dots on her skin like a baby fawn, and a cute little deer nose to top it off!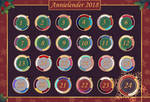 To take part of our lovely community, please join our Discord!
Image details
Image size
789x800px 716.14 KB