Description

DESIGNER

How many Blessings: 2
Rarity: Uncommon
Eyes: Common round
Description of blessings and Annie:


Northern Cardinal, also known as Red Cardinal, or simply Cardinal, is a granivorious specie.
Which means that their main diet consists of seed only, occasionally other things such as bugs or fruits.
The males have a bright red coloration, while the females are more toned down olive green.
It is common for the birds to feed eachother seeds as an act of love during courtship.
They love to sing and gladly do so to impress their partner, who they stay with for life.
While the female is incubating, the father will care for the young and take care of the food.
When they build nests, they usually sing together and then when it is complete, they celebrate by feeding eachother.
Back in time the used to be common as pets, but due to being migratory,
they were banned for being held in cages. This bird can reach an age as old as 30!
But sadly due to being popular with predators, the average cardinal do not make it past the year of 1.

Juniper berries are used both fresh and dry for a variety of things, ranging from spices used for meat and bird dishes,
to gain flavour in gin, in soft drinks and as oil is for aromatherapy and perfume.
The berries have a long history having been found in ancient Egyptian tombs,
thought to have come from Greece where they are mentioned to have been used as medicine.
The Greeks also used the berries in many of their Olympic events because they believed the berries would increase physical stamina!

Optional Personality:
Self conscious of not being able to display her blessings well-- she makes sure to dress the part.
With a red striking dress with white accents, and a lot of vials which she stores liquid made of her berries.
Trying hard everyday to study upon her blessings to gain a connection with them,
this cold looking girl has a warm and caring heart.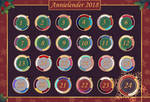 To take part of our lovely community, please join our Discord!
Image details
Image size
1443x1770px 1.67 MB