DESIGNER
How many Blessings: 1
Rarity: Common
Eyes: Common round
Description of blessings and Annie:

The Mimosa is an evergreen tree or shrub growing up to 30 m tall, though some wild specimens can grow way bigger!
It's considered the queen of winter. While other plants lose their attractiveness during that season, the mimosa is the opposite point as it is its moment to bloom.
Its flowers have a very soft and gentle scent, shaped like little fluffly pompoms they gather together in small groups, they can go from white to orange including a very vibrant yellow tone.
The mimosa gets its name due to the fact that its branches seem to be highly sensitive.
Whenever you try to touch them the leaves and flowers will start trembling as if they were afraid or shy.
Therefore the mimosa is usually used to symbolize a secret love or an enhanced

sensitivity

and they can also be gifted in small bouquets as a
gesture of mourning or sympathy.
Optional Personality:
This Annie has taken the fluffyness of the mimosa to the next level. The jacket-skirt combination keeps her warm and lovely at the same time.
Mimosas grow all over her body though it's hard for her to control them when she gets nervous or excited,
making the fluffy balls fall and sometimes leaving tiny specks of pollen over her outfit or a yellow trail wherever she walks, making it look like fairy dust.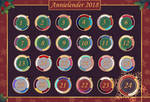 To take part of our lovely community, please join our Discord!
Image details
Image size
693x900px 450.61 KB