Description

DESIGNER

How many Blessings: 1
Rarity: Common
Eyes: Common round
Description of blessings and Annie:

A cross between a labrador and poodle,
labradoodles are a smart and friendly speices!
Bred for the intelligence of the labrador and
the low shedding fur of the poodle,
this species makes for a very good allergy-friendly guide dog.
This Annie was blessed by a labradoodle with a chocolate coloured coat -
giving them the rich brown colour in their hair.
Their short and wavy hair also
resembles the fluffy fur of the labradoodle!
Optional Personality:
Do not feed chocolate to dogs!
Blessed by a chocolate labradoodle,
this Annie owns a chocolate laboratory where
they use their sharp nose to create
the most delicious chocolates the world has ever seen.
Despite their dog blessing,
they thankfully are able to consume chocolate without it harming them!
They are able to create custom chocolates and sweets suited for any customer's tastes,
and during holiday seasons it's very hard to get custom chocolates from their shop!
Some people find it a bit morbid that a dog-blessed Annie makes chocolate,
but word on the street is that this Annie can use their sharp nose
to craft the most indistinguishable poisons as well.
Be careful of what you sample in their lab when they're not looking!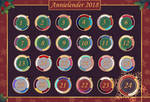 To take part of our lovely community, please join our Discord!
Image details
Image size
605x1000px 688.56 KB

I absolutely love the colors in this (greens and browns are my faves, especially combined!) but now I'm...really craving chocolate, ahaha...
cute design, nice work!