DESIGNER

How many Blessings: 1
Rarity: Common
Eyes: Common round
Description of blessings and Annie:

Pomeranian's
are a miniature version of our common spitz dog. Their origin can be found in England around 800-century,
since queen Victoria had her interest in these adorable little fur balls and started a kennel to breed Pomeranians.
They have been very popular in England and spread everywhere ever since. Pomeranian charms with its thick fur, adorable fluffy tail and small compact size,
no wonder they are one of the most commonly owned dogs. Because Pomeranians love companions they wont leave you for a long while.


Optional Personality:
This Annie loves to hang around other Annies and loves to walk in the nature with friends, as naturally they wont leave far from home.
This Annie's blessing affects her growth which makes her a bit shorter from others, but it doesn't bother this little fella as shes pretty popular among others!
She has a lot of friends she likes to spend her time with. You might think that her smaller size is an obstacle for her,
but she can certainly defend for herself as well as others! Shes a Pomeranian after all.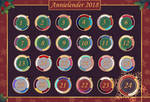 To take part of our lovely community, please join our Discord!
Image details
Image size
1243x1338px 6.36 MB