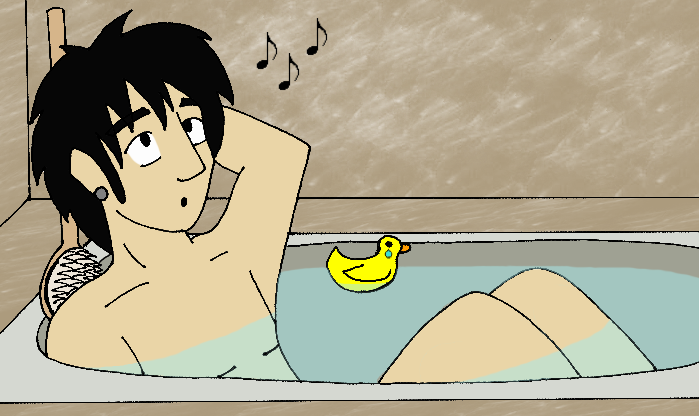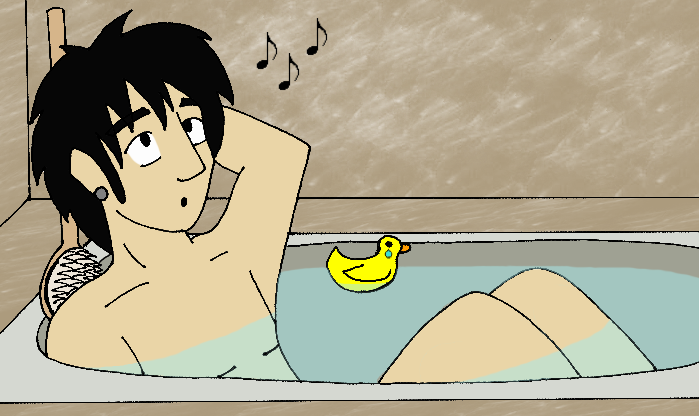 Watch
So...one night, I was being bombarded with ideas I wanted to draw, and in an attempt to focus my thoughts,
suggested that I draw Tlaloc in the bathtub...whistling. And the moment she said it, I knew I would have to do so (despite her telling me that no, I did not *have* to. XD) I looked at a couple of stock photos (wow, there's a lot of macabre and horror if you look up "bathtub stock pictures" o_O), but ultimately decided to just go with what my mind came up with.
Several painstaking hours later, we have this. XD It...was wonderfully fun, despite the fact that certain things gave me trouble. Mostly the tub - I didn't really have any problems getting Tlaloc to cooperate. o.o; Although I ended up liking the marble-y looking part. But...ha, I can honestly say that this is the first time I've ever drawn a tub. XD; And yes, Tlaloc gets a rubber ducky. An emo one, apparently.
So...yes. For you, Rae.

Thank you for the inspiration.
Drawn in pencil, inked, and colored in Photoshop.
Tlaloc and original idea ©
Drawing and coloring © Yami Kaosu
Music note brush from
[link]

Is that.... Is that rubber ducky.... CRYING? o.o
Reply

Yeah, Tlaloc got it at Hot Topic for $19.99. It was one of those emo kid necessities.
Reply

And here I thought he just bought a rubber ducky for 99 cents and painted it on himself! How could I be so STUPID?
Reply

Well, you'd think so, but Hot Topic's totally original and all, so Tlaloc didn't feel right copying their brilliant ideas. In the end, the $19.99 was worth it (even though WalMart had a generic name brand emo duck for $1.29...it wasn't from Hot Topic, so he couldn't get it there.)
Reply

Tlaloc is whistling "Sexual (li da di) by Amber because that is what he and Baxter danced to in the "We're Just Friends" series.

He had to go home and take a bath because it was so dirty.

He still has the maid's outfit because it fits him too nicely.
Reply

YES.

Either that, or the music's playing itself and he's just in awe of it. Or something. XD

...he did look waaay too good in that outfit, though. >>;
Reply

XD That's great! I especially love the emo ducky!! <3
Reply

Haha, yeah, I kind of figured that Tlaloc wouldn't have a regular old rubber ducky...no, his ducky would have to be emo. XD
Reply

lol, yea either emo or dead! ("suicide ducky...you're the one! you make killing myself lots of fun! suicide ducky, I'm awfully emo with yooooouu!")

Wow, that was dark. *sweatdrop*
Reply

Oh, dear. If I get that little ditty stuck in my head, I will come back and blame you. XD

Pssh, it's not dark. 'tleast not when Tlaloc sings it. I can just imagine him absolutely BELTING IT OUT with smiles and sunshine. XD
Reply

Smiles and sunshine?? XDD
Oh man...that would be hilarious. Wouldn't he be more likely to belt it out with smiles and lightning bolts? (Rain gods aren't known for their "sunny" dispositions, ya know...lol)
Reply

Well, I think of Tlaloc as being happy about being/causing emo. Which kind of cancels out the emoness aspect, but meh. XD; And I guess he *would* go more for the lightning and less for the sunshine, but...lightning just doesn't have that same "OMBHAPPY" air about it that sunshine does.
Reply

My brain has apparently decided to ignore your sunshiny comment... After I read it, I was gifted with images of Tlaloc "Singing in the Rain," so to speak...umbrella, lampposts, puddles and all! XD
::whistles along with him::
Reply

Haha, nifty. You should draw it. XD

I feel so ignored... *woe* XD
Reply
(2 Replies)

I can't write enough "XD" emoticons to represent how hard I am laughing. Curses, I am in the library too.

Thank you so much!

Oh and when you said you "didn't have any trouble getting Tlaloc to co-operate" all I could think was you telling him to get in the tub and him going: "Naked time?! Sweet!" And his clothes just sort of get torn off in hunks and he screams: "OW OW!!"

XD
Reply