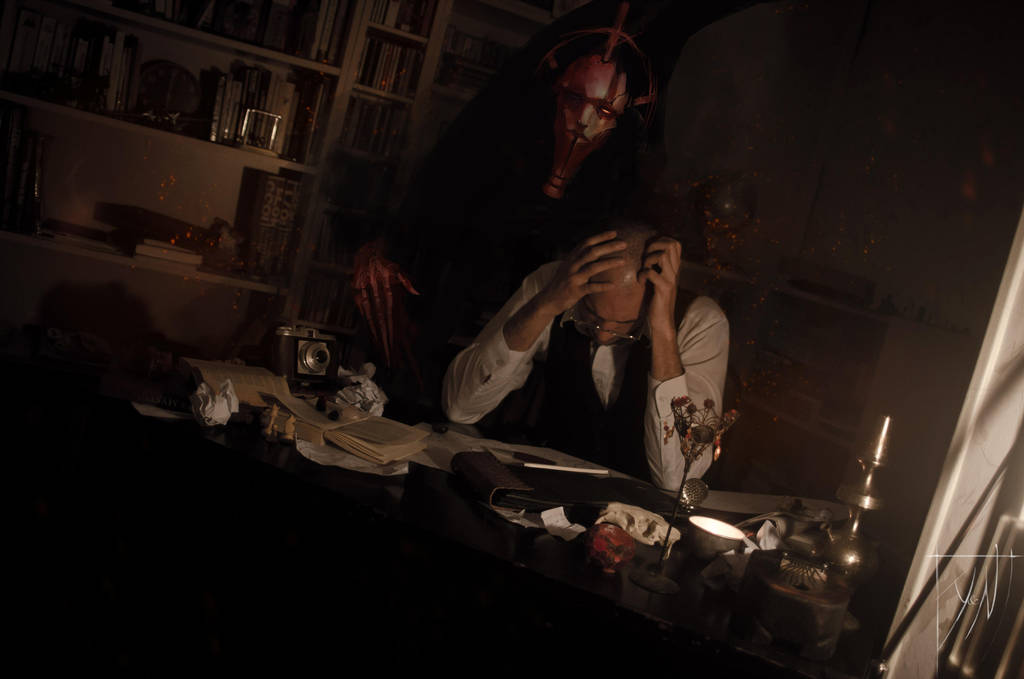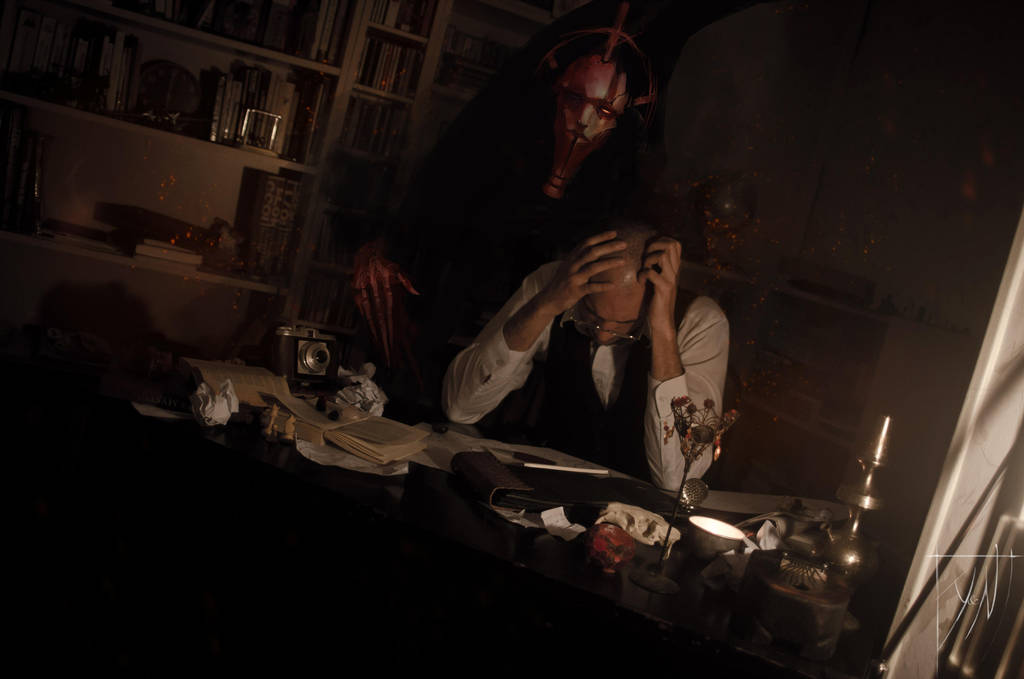 Watch
www.facebook.com/ymir.world

www.facebook.com/Nakhana.Photo…



L'ombre du pharaon noir.

Et voilà, encore un autre petit extrait de l'exposition "Visions Hallucinées" que la très talentueuse-mystique-effrayante-et-aimablement-tyrannique Nakhana et moi-même avons proposé pour la semaine Lovecraft grenobloise. Car c'était le Cthulhu Day de décembre, inconscients que vous êtes...
Et c'était là l'occasion de concrétiser enfin cette envie lancinante de mettre en image certains archétypes des nouvelles et romans du reclus de Providence, ainsi que les horreurs indicibles qui peuplent les tréfonds de l'esprit et les sombres ailleurs cosmiques. Le tout en mélangeant nos techniques respectives, de la photographie au digital painting, en passant par la peinture traditionnelle (sur toile et tout, oh)…
Tout cela se trouve jusqu'à début Janvier à la librairie Omerveilles de Grenoble, et se déplacera jusqu'au K fée des Jeux pendant deux mois. Sachant que les rangs de cette noire assemblée ne cessent de gonfler, pas dit que le voyage soit le même d'une fois sur l'autre .
Merci encore à tout ceux qui ont pu venir au vernissage mardi dernier, et pour les autres, rendez-vous début janvier pour un deuxième round !
Rêves et tentacules.
Hum.
Daily Deviation
Given 2015-01-11

Please don't be so mad fellow
Reply

Sebehy er rut ta desheret
Iw iyin s n kekw
Em seshet'w djuu senefu
Rekh-en-ef pa nisut kem
B'k n netjeri shesepu nen horef
Redi-en-ef medjat en mut
Nyarlathotep
Sefetju tehemy buyetyen
Nyarlathotep
Heruyu her nu 'reku
I'tyu her muetem kh'sut nebut
Neb senedju h.enemnemy er kheru
Wepwety en buyetyen
Seb waten shut her niku
Neru m per khenety n idenu


The Darkest Of The Hillside Thickets: Nyarlathotep
Reply

Pretty cool, but how does it rack up to Star Platinum?
Reply

Reply

Oh my!

To Nyarlathotep, Mighty Messenger, must all things be told!

(Love this one so much!!)
Reply

Whoa

so creepy. Excellent work!
Reply
OMG, that a great art. Super!!!
Reply

Reply

This is great!

Reply

Death and God, Which two figures are closer to you in your time of need?
Reply

Mon Dieu. CA c'est de l'art.
Reply

That's fine, I did not want to sleep anyway.

But seriously you did an amazing job there. For my french is really bad, am I right figuring out you found some inspiration in H.P. Lovecraft's novels? If so, wow. It's just so much this picture can tell.
Reply

Reply