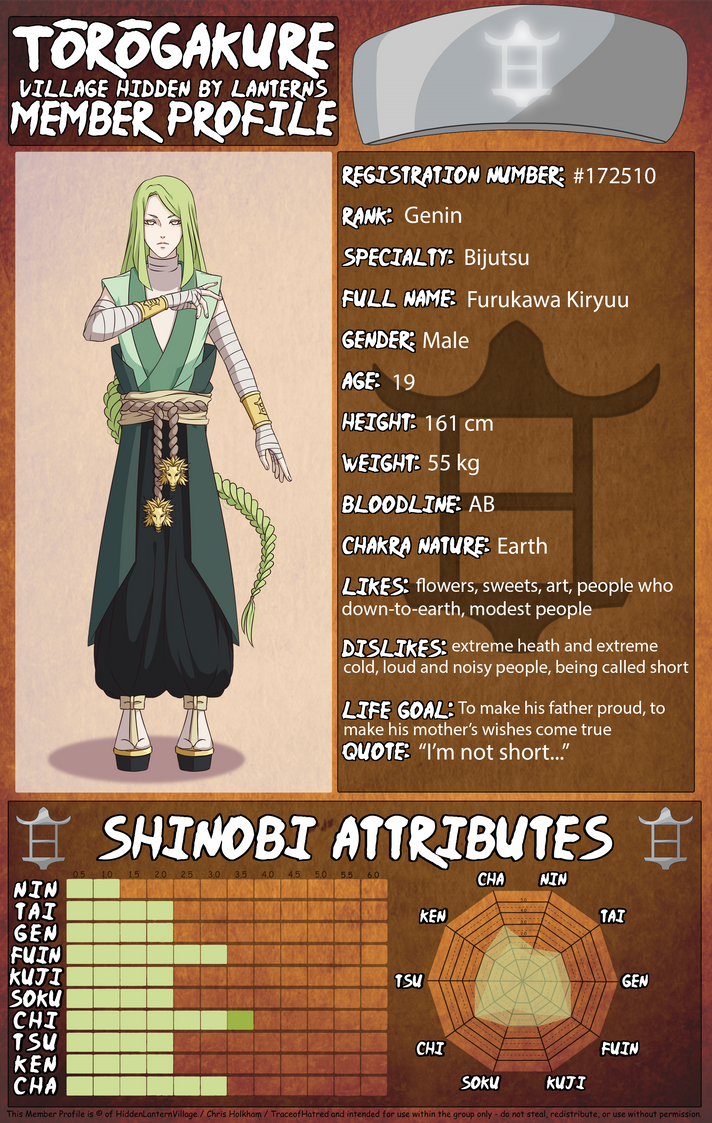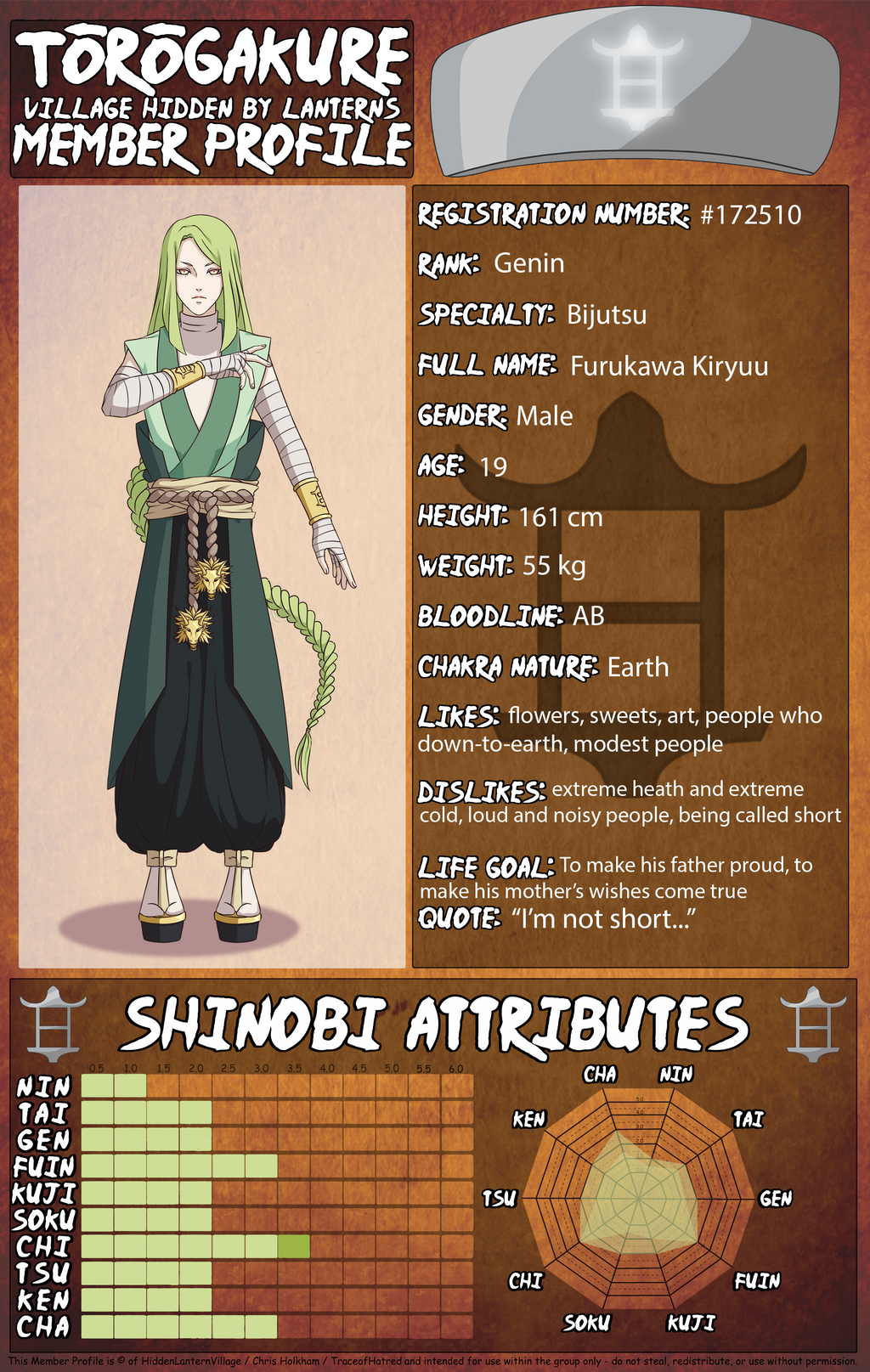 Watch
Edit no.2: MY BABY IS FINALLY MAXED OUT QWQ
Edit: Look at him finally getting into the Bijutsu specialty //cries proudly

FINALLY @.@ I'M SO DONE WITH THIS OMG TWT Finally got my second character qwq

Character Information:
Ninja Registration Number: #172510
Full Name: Furukawa (ancient river) Kiryuu (shining dragon)
Gender: Male
Date of Birth: 19, born on May, 25th
Height in CM: 161 cm
Weight in KG: 55 kg
Blood type: AB

Personality Information: Likes, Dislikes, Habits and Traits:
Hobbies: growing and taking care of plants in their yard and drawing
Mannerisms: He plays with his hair a lot, especially when nervous, he would twirls his hair around his fingers. He calls everyone except his family by their last names.
Likes: flowers, sweets, art, people who down-to-earth, modest people…
Dislikes: extreme heath and extreme cold, loud and noisy people, being called short, people that can't decide for themselves, wastrels…
Inspirations: His father and his mother
Life Goals: To make his father proud, to make his mother's wishes come true.

Personality:
Kiryuu is a very calm persona. If he decides to trust you he'll be extremely loyal. He is respectful to his superiors. He gives a vibe of a pretty quiet person because he'll express himself in a minimum of words possible – he's pretty straightforward, and won't sweet talk you at all, but be bluntly honest instead (though there are some people he'll choose the words for, like his mother for example). He express his emotions more through gestures and facial expressions than words.
He is also very hard working.

Trivia:
- He has a short complex and will get offended when called short.
- He uses make up on a daily bases, he believes that it's a Furukawa signature, since his father had it as well.
- He has a floral dragon tattoo on his back.
- Kiryuu likes drawing people the most, and in terms of anatomy he likes drawing neck, hands, shoulders, back and waist (waist mostly on girls).
- The dragons he wears on his outfit were the gift from his mother and father when he was born.
- He is ambidextrous

Backstory:
He is the only son of a father Furukawa (ancient river) Arashi (storm) and a mother Shiragiku (chrysanthemums) Sumire (violet). Arashi was a kind and noble man, that cared a lot about his family and his village. He was a loyal warrior – jonin ranked, while Sumire was a civilian who has her flower shop. She is a loving mother that will put her family before everything. She was always weak and got easily tired and the reason for that was the anemia she suffered from her childhood.

As a child, Kiryuu was a lot like his father who inspired him to become a noble shinobi who will protect his village. He was somewhat more talkative and playful. But that lasted only until the age of 6 when his father died. That caused Kiryuu to kind of become more of an introvert. At that period his mother got somewhat worse due to sadness, but she forced herself to swallow the pain since she was the only one who can take care of Kiryuu and support him both financially and on parental level.
His father killed by an enemy agent during reconnaissance against Ihaigakure in the Battle of the Scarlet Rock.



Kiryuu was six years old when his father died not four

With his father dead his life goal of making him proud became somewhat impossible now, but even so he still worked very hard as he believed that his father is watching over him and that he will see what a great shinobi he is working to become. But there was another thing that happened during that time: as his mother had to work more to support them, and even so they had enough to survive, she had to sacrifice a lot. Therefore he wanted to get stronger even more, so he can be the one to support her instead, and make her every dream come true.

He was the busiest during his childhood as he wanted to be around his mother so he could help her. But as he grew up and got stronger he was able to support his mother with the money he got from missions therefore she didn't have to work as much. That would leave him with more free time than before.

As he grew older and the village became less safe his mother would become a bit paranoid, as she feared for him, but tried to hide it as best as she could, knowing that he wants to follow his father's steps. Even though she was pretty scared for his life she couldn't help but to be proud of him since he was really pure image of his father, which made her very happy as well. At those times she knew that she raised him properly and that he would be able to take care of himself and other people as well.

Kiryuu wasn't a loud child neither did he enjoyed noisy surroundings but that got even worse after his father's death where he really started enjoying peace and quiet even more. Another thing that came with his father's death was his fear or better to say disliking towards empty spaces and loneliness. When completely alone or surrounded by a big empty space he would start feeling uneasy.



His father, Arashi, was a Fuinjutsu user. That is where Kiryuu's interest and talent for fuin comes from. Though he does study Bijutsu, which is based of Fuinjutsu (i guess ._.), as he kind of wanted to develop those powers more into an artistic form. His father also liked to draw, so Kiryuu thinks that being able to perform Bijutsu will probably make his father proud.

Chakra Nature:
Doton (Earth)

Shinobi Specialization:
− Bijutsu Specialist: Master of Ink pot, Paper and Clay Jutsu.