About Me
: I graduated as a dental technician but writing and drawing are my passions. I'm good at giving advices and I like to speak my mind freely. I am always honest even when others don't like it. I promise I'm a good girl, or maybe not. ::tehe:
Likes
: music, males, females, concerts, piercings, tattoos, snuggling, texting, shopping, reading, writing, animals, long hair, beaches, oceans, summer, singing loudly and obnoxiously in the car, drawing, ice cream, video games, zombies, vampires, whipped cream, anime, manga, novels kinky things, stalking band guys I obsess over, meeting new people and making new friends, so talk to me i don't bite.... hard

and most of all talking to you.
Disikes
: obnoxious people, mean people, those people who kill animals to make fur coats, aliens, those girls that scream so effing loudly, people who give me a headache, people who say things won't hurt but they do, people who chew really loudly (like wtf, man?!), people who tell me to shut up, people who overdo everything.
Strange Things About Me
: Playing in the rain. | I won't bite my tongue. If I have something to say, I'll say it. | Twisted sense of humor and view on life. | I can be rude or sweet, totally up to you. | Unique sense of fashion. | Obsessed with VAMPIRES | I don't believe in love. Such a thing does not exist, it's fictional. | I could give less of a fuck about how you see me and my actions. I'm going to do what I like, act however I'd like and be whoever I feel like being. | Sinner | I can be fairly sarcastic. | I love Autumn 80% and Winter the rest 20&. | I don't judge people. | I don't believe in love. Such a thing does not exist, it's fictional. | Lost cause to many people but who the hell cares? |

Where To Find Me
Facebook
YouTube
Vampirefreaks
Quotev
Nanowrimo
Free-ebooks.net
Twitter
archive of our own
wattpad
Believe
Look like a woman, act like a lady, think like a man and work like a boss!!!
The Tainted Clock is Counting Down
Date: November 28th, 2014 | Time: 03:13
Drowning in my Own Fucking Mind
Listening: The Grey by Icon For Hire
I view myself as an artist, my canvas and paints are just different.
My Status:





Loved/Top Favorite Artists on DeviantART:






























Let's Say It All with a Stamp




















:thumb64194669: :thumb65411808:















































:thumb176845575: :thumb153603370: :thumb104533301: :thumb173437370: :thumb182909226: :thumb255347718:

My Birthday: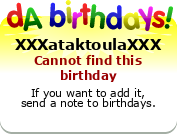 Visitor Map:
Get a FREE visitor map for your site!