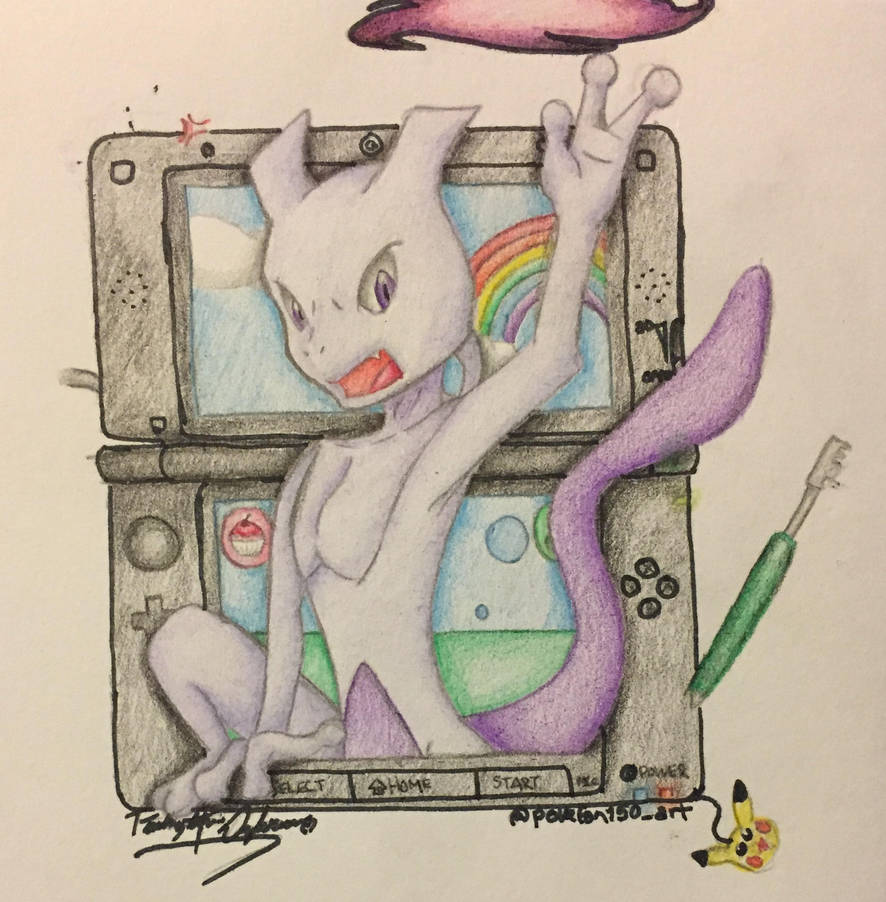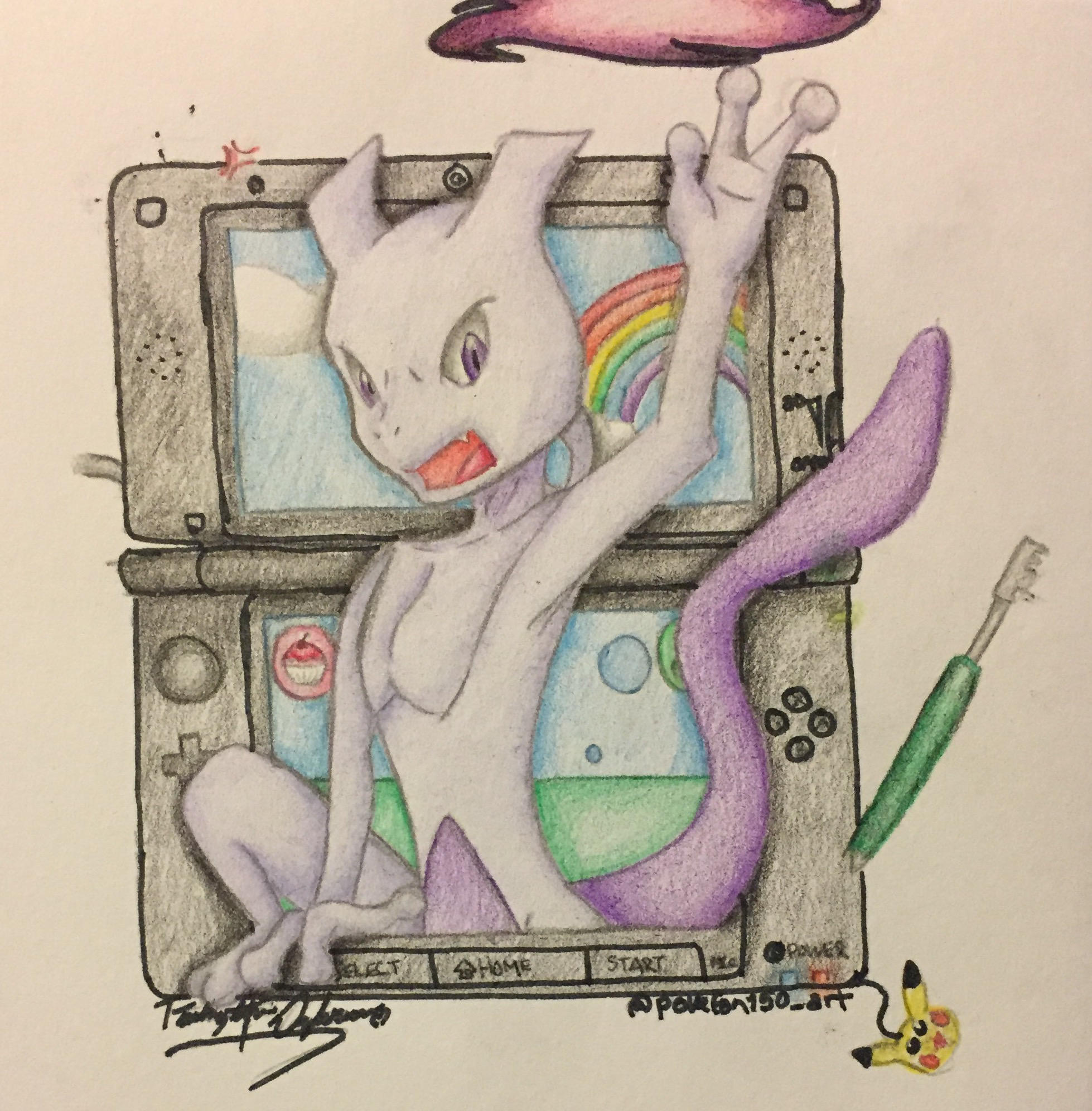 One of two random deviations that I'll be submitting this week.
So, yeah, I actually liked how this came out, and it was no wonder that it became such a sensation on Instagram, raking in almost 340 likes! It was also my most popular on Amino, being featured 4 times in four different Amino communities. Making it a total of almost 1200 likes on the Amino app. But surprisingly, it wasn't popular at all on my Tumblr.
Link to Instagram post:
instagram.com/p/BSjoiwKF3xQ
(If anyone wants to come by and give that post a like, then you are more than welcome)
Honestly, it seems that a lot of my watchers and followers like it when I post about Mewtwo, so, here ya go, I guess.
Mewtwo has made appearances in:
Mewtwo
Which Pokmon Battle Method Do You Use?
Greninja's (failed) Selfie!
(Too Long a Title)
(Error)
Part 1- Dr. Zoroark's Mission
Part 2- Meet Shadow and Sonic!
Part 3- In Snowbelle City
Sonic and Shadow as Pokemon Trainers
A Very Poke Holiday
Pokemon/Sonic Cosplay- Suicide Squad Edition
King Kanto
Poke St. Paddy's Day
Mega Shadow Mewtwo X
Oui, Mon Amie!
(a collab I did with

)
Poke Independence Day!
Ride
Part 1: Admittance, Ch 11 and 12
Going Under
-here-
Last Friday Night (TGIF)
Love the Way You'd Lie
Mario Kart: Mewtwo
War Paint
Mewtwo Gore!
Leave Out All the Rest
Greninja's (failed) Selfie! (Remastered)
Hometown
Serena and Mega Mewtwo Y
Merry Christmas!
Mama, It's the Poison and Pills!
Mewtwo Miiverse Drawing
Chibi Mewtwo Miiverse Drawing
Lucario X Mewtwo Miiverse Drawing
Mewtwo And Mew Miiverse Drawing
So, I'm starting to think that it seems like Mewtwo is a favorite amongst me, as he snuck his way into my heart in mid 2015, before I had made this account. And what better way to make a tribute to my favorite Pokemon than with this drawing?
Portal? Check.
Pokemon Amie? Check.
Badassery? Check.
Mewtwo? Oh hell yes. He could be mad at Dialga and Palkia, but who knows? He could be mad at me for trapping his soul in a digital dimension.
A song that could very well go with this piece would be
Burn It Down
by LINKIN PARK. Link here:
www.youtube.com/watch?v=dxytyR…
Edit: Seeing since this is so popular, I was thinking about drawing something very similar to this, only with Mewtwo's whole body coming out of the 3DS instead of part of it. What would you guys think? Should I go for it?

Edit 2: Wow, I can't believe that this drawing is a year old already!

Edit 3: I wanna digitally touch-up my drawing. Do you think I should?
Twitter:
twitter.com/TrickyTheSylvie
Instagram:
instagram.com/trickythesylveon
Tumblr:
trickythesylveon.tumblr.com
Google +:
plus.google.com/u/0/+TrickySyl…
Wattpad:
wattpad.com/user/trickythesylv…
Discord: Tricky the Sylveon #2803
Hey, Tricky! I chose to critique this piece because it's my favorite deviation of yours so far!

Okay, let's start!

As I've said before, I really like this piece! But even the best pieces of art have their flaws, but don't let any of what I say discourage you, it's only my opinion, albeit an opinion to help you go that little bit further.

Okay, so Mewtwo is drawn perfectly. I would suggest that you make his outline just a tad darker so that he stands out a little more.

The DS is is great, but it needs a little work. I think that the outline with marker is a little shaky, so I suggest maybe using a darker pencil instead. The Pikachu charm is a nice touch, but his eyes are a little too close together.

The last thing I would suggest is to maybe work on your coloring technique. I have a few tutorials in mind, if you would like me to show you.

As I said before, this is not meant to be taken as an insult, it is a great deviation, and I really like the concept, but it's merely to help you improve.
If this were made digital, it would be outstanding.

All in all, amazing work, do not give up, keep going forward, and stay awesome!
The Artist thought this was FAIR
12 out of 12 deviants thought this was fair.