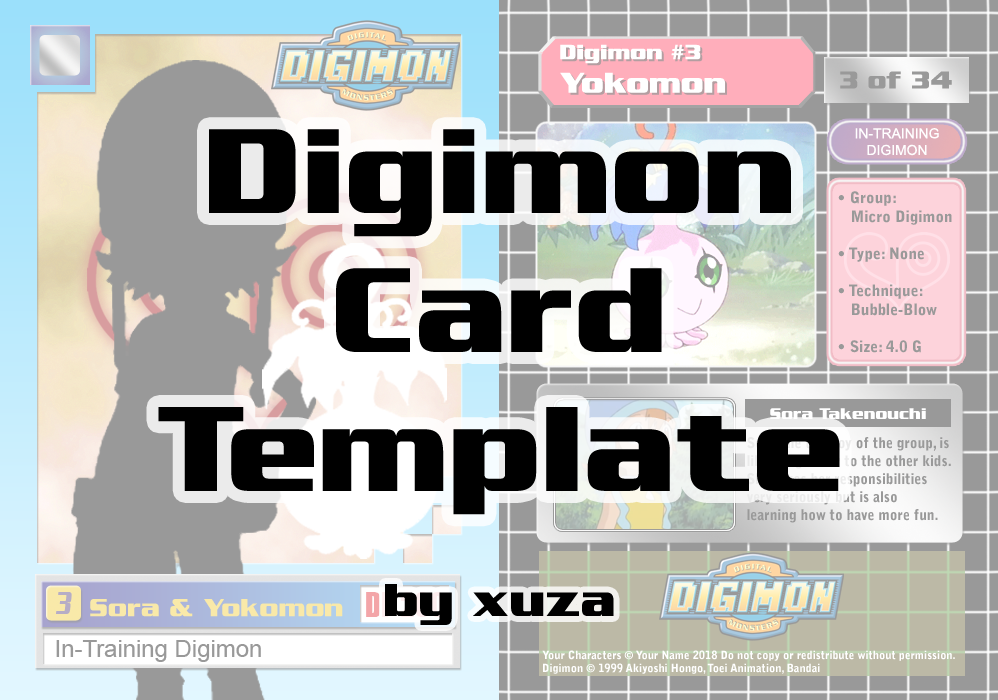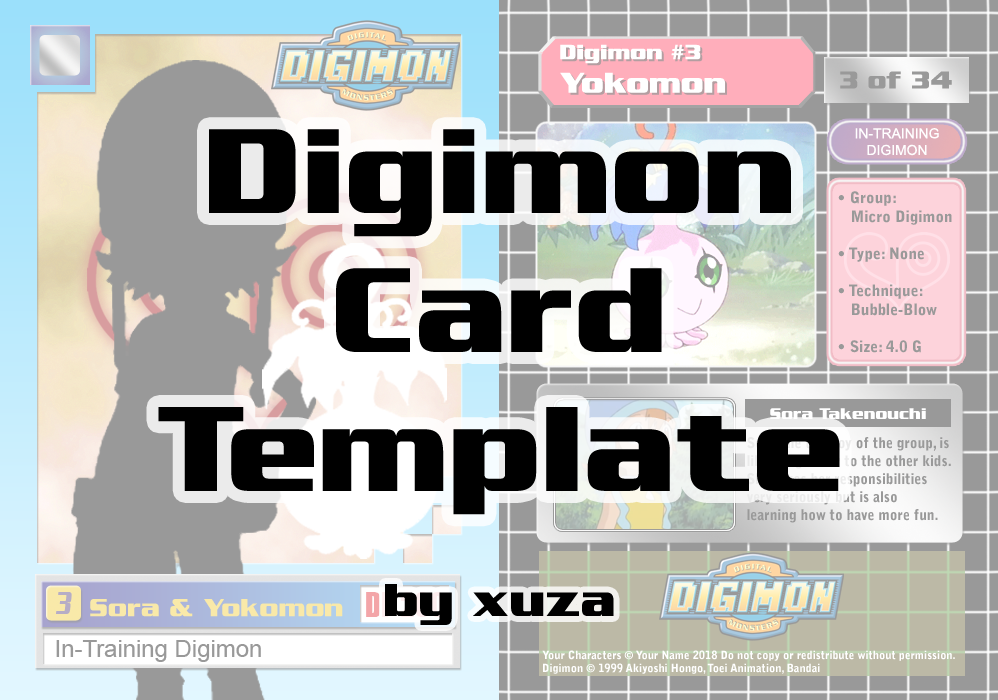 EDIT:
Updated to include:
- Background group (Front side) for Digimon-only cards that has the white lines going across. Change the image behind the lines to suit your Digimon!
- Added Front/Back group sets for all the crests and crest-related colors, because why not! They were matched to all the Digidestined cards (but I had to guess for the back of Kari's since she never had one with Nyaromon).
Figured I might as well share the PSD I made for those old-style cards a long while back. I know there's a couple already on here, but everyone's is a little different so take your pick! It was made with Photoshop CS4 so I'm going to guess it'd need that or higher to work properly. PSD only.
It's pretty self-explanatory, the layers and groups are all labelled. I'm neither going to provide instructions nor handhold you through using it if you don't understand it. I'm just making this file publicly available, you're on your own with making use of it. (But do let me know if something looks broken/messed up in it.)
If you're only using it for web (not printing anything) you can crop it down so the bleed frame isn't there, to the "crop to me" layer.
Terms of Use:
- Link back to this template if you use it. So other people can see where it's from and use it too!
- Don't claim it as your own or redistribute it under your own name.
- You can change whatever colors you want, fancy it up to your own tastes, but you still need to link back to this template as it was the base for all that.
Fonts Required:
- Impact (should be by default installed)
- Arial (same as above)
- Bell Gothic Std:
www.wfonts.com/font/bell-gothi…
(might be a default font though?)
- Serpentine Sans Bold:
freakfonts.com/fonts/serpentin…
Some text may need to be scaled down/squished depending on the length of your characters' names.
Digimon Logo Vector credit:
www.deviantart.com/3prsta/art/…

Yes! This is awesome!! Thanks so much for sharing it with everyone! 8D
Reply

i went through all the effort of recreating these darn things myself and here you go making it easier
(i'm still gonna use my own if i ever do finish the ones for my projects, but, you know, these are fun to play around with, so.
👀
👀
👀 )

Reply

lmao sorry I have impeccable timing. This thing has been laying around in my folder for YEARS.
Reply

This is pretty spunky. I like it! Maybe I'll use it for my OCS kinda like a throwback? Nice work

Reply

Reply

Wow, that brings back memories. I don't think I'll ever actually use it, but I'll fav it anyway to make it easier to find in case I need to credit it.

Damn it, now I want to get back to that Evolution Tree project I abandoned years ago.
Reply

Reply

Still super happy and grateful for this, it's a great resource for the fandom : D absolutely going to be using this template for sure!
Reply

I have a few of those old-style cards. But they're sadly worn-out. Man, i remember i could once buy a digimon chocolate bar. I was such a brighter person as a kid. I know i still have a vhs of some of the episodes

Reply