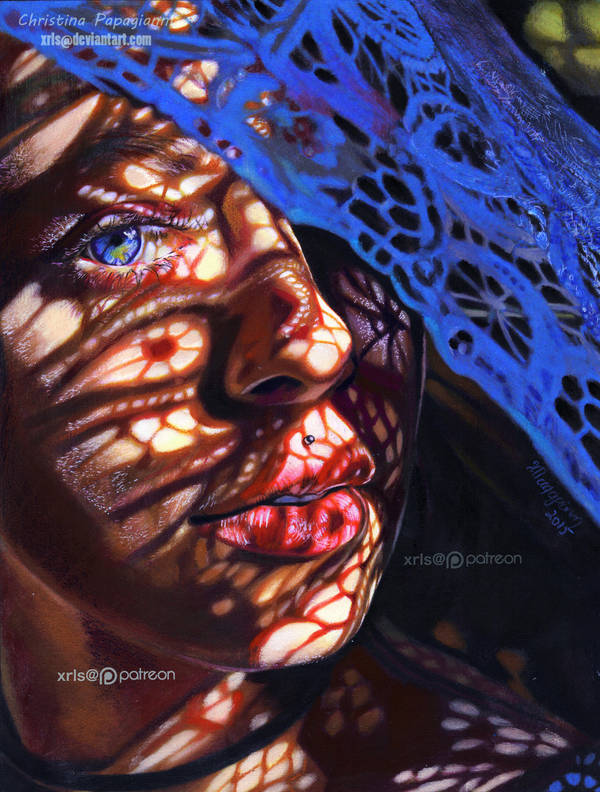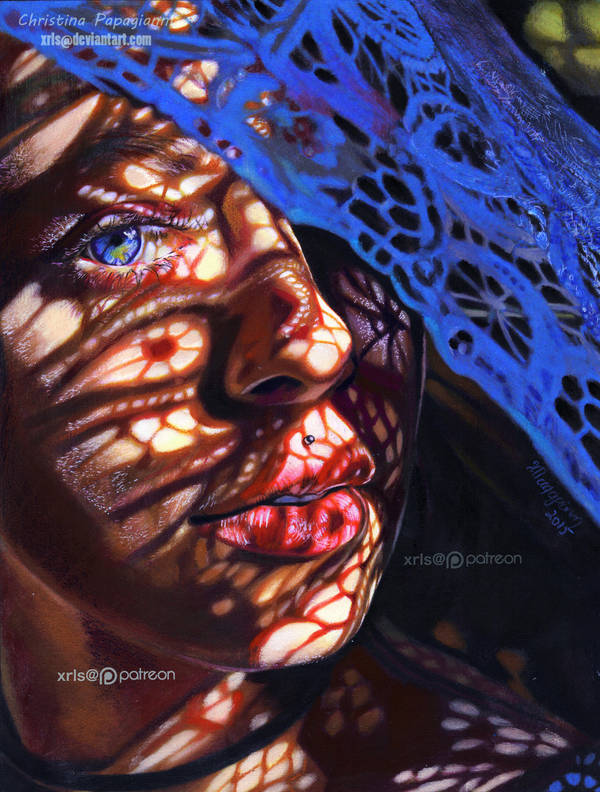 Watch
In this order (on extra smooth Bristol paper 250gms/m2) I used;
Soft core prismacolor pencils
Micron 0.1 black and white gel pen

Fixative spray
polymer film
pan pastels and color pencils again
Fixative spray

My beautiful ref stock photo
(yes i have changed the colors. Again.

)

Support me in Patreon www.patreon.com/xrls?ty=h

My

www.facebook.com/pages/Christi…





























all

so very much for viewing, faving and commenting!

Daily Deviation
Given 2015-06-18
Laced Shadows
by
XRlS
is a breathtaking drawing with vibrant colors and incredible play of light and shadows. (
Suggested by iingo and Featured by Agaave
)
I truly love this piece.
I think the lace is incredible and we can feel the depth of it.
We can also feel the curves of her face by the way you made the shadows through the lace.
I think that the color of her eye and the lace makes a great balance. We can just imagine a mediterranean beauty!
For the overall impact, I think this works out great. No doubt in my mind that this is a sensual drawing with a good taste of femininity.
Thank you for taking the time to post this.
I'm giving you a total of 4.5 Stars

The Artist thought this was FAIR
25 out of 25 deviants thought this was fair.
First of all, a hearty happy birthday shout to you, Christina, wishing you continuing flashes of inspiration, many moments of grace in your life and creative production throughout the year ahead. I have nothing more to add to the previous critique, than to say that this is a dramatic study of light, shadow and the thoughtful balance of complementary color. This is most exemplified by the interplay between the blue of her eye and the lace, the red in her lips and the scattering of red shadow. Of course your mastery of your chosen media is stunning.
Best regards,
Ed
The Artist thought this was FAIR
7 out of 7 deviants thought this was fair.