deviantID image courtesy of
DigitalServine2001
Hello fellow visitor!, i'm Xrayleader, a DeviantArt user who specializes on the use of Garry's mod for art creation, ranging from simple screenshots/photos, to Rotoscopy-assisted digital art.
My likings include Halo and PMD, amongst others
Right now i have a small proyect going on, it's a Fanfic called "Halo:Mystery Planet", it's a series of Gmod submissions with the story in the description, originally going as 5 unrelated Gmod ambientance Pics, which you can find here: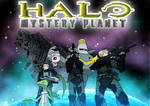 You can use the links in the description from part 5 onwards to navigate, since they were originally unrelated, next to no dialogue is given, i apologize for the mess, i will replace them with a proper prologue
I also have an ask section that i call an "Ask hub", which you can find here:

And i take commissions as well


Commissions (ACTIVE)As of now, i'm accepting commissions, if you want a commission, just send me a note with "Commission - SELECTED OPTION" as the subjct.
Accepted payments include DA points for now, options are:
Simple outline: 50 pts
Colored: 70 pts
Colored and shaded: 90 pts
Colored and custom-shaded: 100 pts
Background: +50 pts for the chosen option
Terms:
- No NSFW art
- Since commissions are Gmod-assisted, i will post a picture with the posed models, if you're agreed with the poses, i will continue with the outline, once the outline is done, shown and agreed with, you may pay for me to continue to you preferred option or for it's delivery in case you just wanted the outline. Do not pay before the outline
- I will ask for your e-mail to deliver your commissioned art, which will come without personal watermark, you're free to do whatever you want with the copy, with the condition of crediting me as the original author, if you use an outline-commission as a base, cred
And that's all i have to say, feel free to visit my gallery, leave a watch, donate, or even comment something!, have a good day!