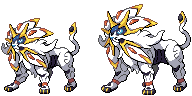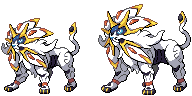 Watch
Since I'm thinking of working on Pokémon Sun/Moon art I started drawing Solgaleo to get used to its design and decided to make a sprite for it. The left sprite is Generation 4/5 size, the right sprite is a slightly bigger version.

I'll probably end up making one for Lunala as well, and I may animate them BW-style if I have enough time.

Feel free to use this for whatever you want, no permission necessary. Credit is appreciated.