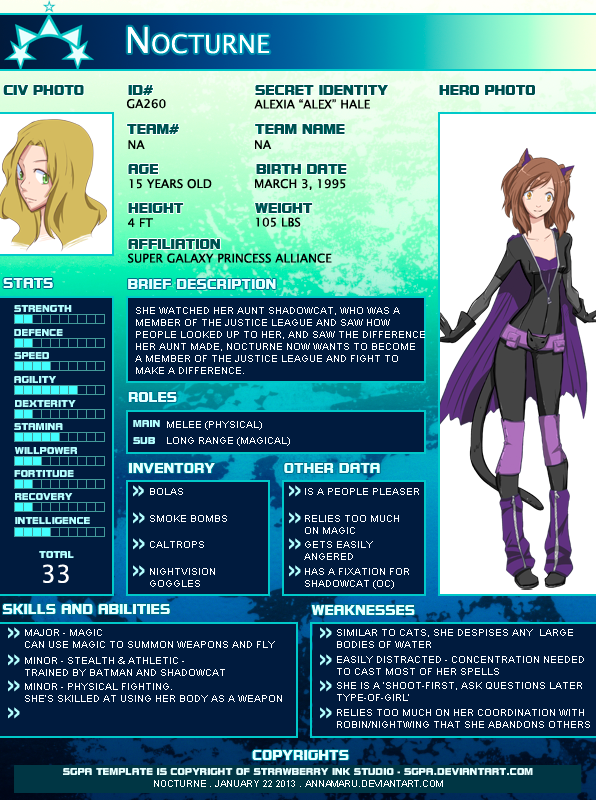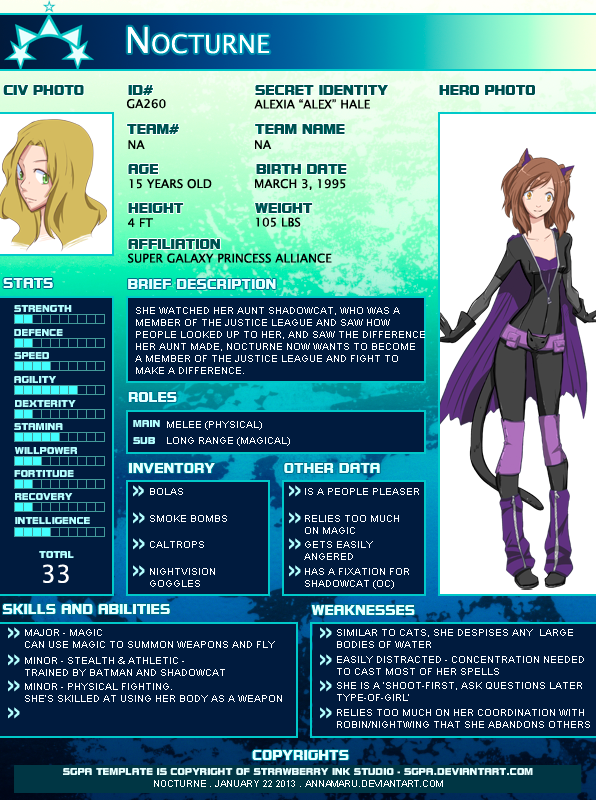 Watch
Finally got this thing done.

It has so many errors and so many things don't make sense, and I tend to repeat a lot of things. x.x Sorry. This is just the longest app I've ever done. Luckily, almost everything had already been preplanned except for the actual character design.

For the group:

. Really excited for this group! If anyone would like to RP, I can do it through comments and notes.


Alias:
Nocturne.

Group / Alliance Affiliation(s):
SGPA, Young Justice.

Secret ID:
Alexia "Alex" Hale.

Nickname(s):
Alex, Axle (by those who are closest to her).

Age:
15.

Gender:
Female.

Nationality:
Asian-Caucasian mix, human.

Current Residence:
Wayne Manor.

Height:
4 FT.

Weight:
105 LBS

Eye Color:
Gold.

Hair Color:
Light brown.

Hair Type:
Shoulder length messy.

Skin Color:
Light pink?

Physical Description:
Petite.

PersonalityGeneral Personality:
She is often bright and happy, but some may find her a bit pushy as she's more focused on getting what she wants. She also tends to scare people as she often tries to please people and how they think of her. She gets angered/frustrated easily when things don't go her way. She seems a bit two-faced if people don't know the real her, or they're blinded by her actions.
Good Traits:
Hardly leaves any job unfinished, skilled in stealth and fighting, usually in a happy mood, is a good listener, can be entertaining.
Bad Traits:
Uncreative, likes to show off, can come off as a bit too pushy and even snobbish, gets angered easily especially when teased, has a difficult time being proven wrong/likes to always be right.
Quirks:
Likes to play with her magic and learn new spells which she often sneaks away from training to do.
.Likes to go on dating sites and make fun of the weird stuff people put on there and even has made her own profile page filled with weird interests and mocks the people who try to hit on her.
Hopes:
Dreams to one day become a member of the Justice League and fight alongside Shadowcat, Batman, and Robin/Nightwing.
Fears:
Has a deathly fear of water, well large bodies of water, oceans, large swimming pools, etc. Has had an experience where she nearly drowned.
. Losing the ability to speak as that is where her power originates.
Memorable Quote(s):
None yet. ;D

Relationships Family Members:
Shadowcat/Annastasia (Aunt), Mother, Father, Zatanna (Niece), Zatara (Uncle).
Closest Friends:
Zatanna, Robin/Nightwing, Shadowcat, Batman (?), Superman, Superboy, Megan, Kid Flash, Aqualad.
Enemies:
Manbat.
Girlfriend(s)/Boyfriend(s):
Robin/Nightwing, Superboy.

Battle
Power(s): She is skilled in both physical fighting as well as magical fighting, but is more reliant on the latter. She has hidden gadgets she uses when appropriate. She is more reliant on her magical abilities when fighting long distance but she also likes to get close and personal using her body and her claws along with kicks and body slams.
POWER/ABILITY 1: Flight.
PROS: She can fly giving her a height advantage and allow for her to get away from dangerous situations. She can also give the power to flight to other people but this is only for a short amount of time and she has to concentrate (getting hit will cancel this effect on everyone including herself).
CONS: If she uses this spell on others, being distracted can null the spell on everyone including herself. She is slower, and is harder for her to dodge an attack since she's more used to fighting/dodging on the ground.
POWER/ABILITY 2: Extremely Agile.
PROS: She can easily maneuver most objects/people, which can be an annoyance for people who are trying to keep her still. She can get into most tight spaces or places that require her to bend her body in unnatural ways.
CONS: She thinks she can fit into any place which can result in her getting stuck. She also can not go backwards only forwards, so if she crawls into a small space that forces her to contort her body to get there, unless she can turn around, she will have to find another way to exit.
POWER/ABILITY 3: Spells.
PROS: She can cast spells. The more she has practiced the spells, the less she has to concentrate in order to cast them. Some spells that she commonly uses: Flight. Give me my bolas (summons bolas in her hands). Caltrops! (summons caltrops in her hands). Whip it! (summons a whip for her to use). Super hero time! (changes her into her super hero persona). Let's change it up! (instantly changes her clothes). Give us all the power of flight! (gives herself and everyone around her the ability to fly).
CONS: Newer spells require more concentration to be able to use. She has to say the spell backwords for it to have any effect, which can be hard if she isn't sure what to say especially saying it backwords. If she loses the ability to say the word clearly, then she cannot cast any spells.
Weapon(s): Bolas, Caltrops, Claws, Whip (summoned only), Nightivision Goggles.
Style: Using her whips for long distance attacks, claws and her body for short ranged attacks, and bolas and caltrops for stealth missions or for crowd control. She's a shoot first ask questions later person.
Strengths: Excellent at stealth missions. Good at fighting with with her body, and using her magic.
Weaknesses: Usually relies too much on Robin/Nightwing and not on the other members, usually leaving them behind or forgetting about them period. Relies too much on magic, so when she can't cast her magic she becomes depressed easily.
Background:
Starting when she was younger, she had always been trained in the use of magic. When she reached 12 years old, she watched Shadowcat fight alongside Batman as members of the Justice League. After pesterring her parents as well as Shadowcat, she is then allowed to train under Shadowcat and Batman, where she also met Robin.
When Red Arrow became angered at the group for being treated as a child, Nocturne just shrugged him off, uncaring about the situation as she had full faith in Shadowcat and even became a bit disappointed that Robin's faith had shakened. She's more then excited to be apart of the new Young Justice and hopes that this will grant her entrance into the Justice League.

She seems really unique and awesome on her own. Would you ever consider moving her out of the Batman/DC universe and giver her a story line all her own?
Reply

Thanks.

But I do wanna revamp her biography. Fix things up I don't like etc, I felt like I rushed her.
And prolly not. Mostly cause I'm not good at making my own world/universe, unless it's just regular old Earth and fitting her in there. But then again, I based her all around the DC universe, her powers her family her goals her wants all extend from there so I don't know if I'd want to mess with it -- haha. Plus I'm lazy. x.x )
Reply

There's really nothing wrong with setting something on regular old Earth. Just remember, when you're writing these characters in their respective settings: you are God. Anything you say goes. You fasten together whole worlds and plains of existence out of sheer willpower.
Setting is always a tough thing, but it can be done. Frank Miller created Basin City for "Sin City". And H.P. Lovercraft created the Leng Plateau for his Cthulu Mythos, and so forth.
Or you could just set up alternate dimensions. It's your call. Remember, you are God.
Reply

I know!

But I'm just too lazy to create a whole world, and their laws, and then I'll be too obsessed with trying to plan the entire thing out cause I want
my
world to be unique! Where aliens can live and repopulate with Dagon! And nobody would judge! >u< )
I'm decent at creating a small "district" for my character, or like a small town, but anything beyond that it gets too detailed and then I never get started writing the story haha! XD
For me, it's all about time. I always think, do I have the time to write a story? If yes then: do I have the time to create a whole world for my character (if it's not a fanfic lol). And usually that's a big no. haha.
Reply

She is so cool and adorable!

Reply

She seems very interesting.
Lone Wolf: Hey little Kitty. *smirks*
Reply

Thanks! I really do wanna edit her stuff though. I always want to edit my stuff after I finish them... lol.




Nocturne: *turns and stares at him* "Like I haven't heard that before." *turns away to look at something else, ignoring him*
Reply

That's how I usually do things. I realize I make a few mistakes and then it takes me time to edit them. XD
Lone Wolf: Aw come on! Have you ever met a guy with wolf like powers before? *looks at her.*
Reply

For me, I just feel the need to do everything over again. ; n ; I never get satisfied lol.




Nocturne: -turns back towards him- "Fine then, show me what you can do. Impress me and I'll consider talking to you." -smirks-
Reply

Oh boy....
Lone Wolf: Well, *smirks, he grows claws and walks over to her with red eyes.* Oh, this isn't all I can do. *he smiles his teeth are sharp.* (Basically he has wolf instincts, he has trouble using them but can control darkness manipulation very well.)
Reply

Reply

I have this urge of RPing with you *____*
Reply

Reply

I have two OCs
Harpie and Tygra.
I'm into Tygra these days, but you choose
Reply

Tygra's good!

Did you want me to start?
Also, do you wanna do script or novel?
Reply

I prefer Novel style
And Could we do it by notes.
That way we don't actually overload the page with replies

Reply

Okay!! I actually prefer notes too! I'll send you one! Warning though: I'm not that good with starting, haha!!
Reply

Reply

I would love to join. are you accepting applications atm?
and is there specific region-tied races? like, I would love to make either a raccoon or a wolf-like character and maybe live in Heimúr. would that be okay?
also, do they have to be full-on furry or just furry characteristics, like ears and a tail? I have only drawn one furry character before and she didn't turn out that swell....

Reply
(1 Reply)

Reply

Welcome to the group! ; v ;
I loooove Nocturne's civilian hair, it looks all floaty~ OvO
Reply

Reply

Alright~!

Typos/Fixes to make:
ID#: GA260
Secret Identity: (use all capitals only lol.. I forced everyone else to)

BRIEF DESCRIPTION:
Watching her aunt, Shadowcat, as a member of the justice league. How people looked up to her and the difference she made. => SHE WATCHED HER AUNT SHADOWCAT, WHO WAS A MEMBER OF THE JUSTICE LEAGUE AND SAW HOW PEOPLE LOOKED UP TO HER, AND SAW THE DIFFERENCE HER AUNT MADE.

SKILLS AND ABILITIES:
You used too many points on her skills. you're only allowed to use up to 4. (major = 2 points, minor = 1 point). You need to downgrade one of her skills at least or delete one.

My suggestion (you can change it if you want though):
MAJOR: MAGIC (because you say she relies too much on her magic, meaning this is probably her most practised and major skill?)
MINOR: PHYSICAL FIGHTING
MINOR: STEALTH AND ATHLETIC ABILITY

WEAKNESSES:
easy distracted => EASILY DISTRACTED
caste => CAST
Reply