Hi, i'm a principiant artist. Im not too good telling things of me, so i won't put anything. (Sorry for the orthography errors in my dA id and this) uwu
:thumb441877926: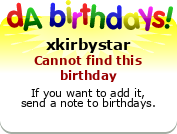 ~STAMPS~


:thumb493605478::thumb511379046::thumb505308384::thumb505295591:














:thumb530860404:


~Buttons~
Avatar by
aellira
Favourite TV Shows
Pokemon,Dragon Ball Z, Dick figures...
Favourite Bands / Musical Artists
The Beatles :3
Favourite Games
Kirby, Pokemon, Sonic, Five Nights at Freddy's, etc...