133 Favourites
31 Comments
1K Views
Over the holidays I wanted to make another picture with the same theme as
this one
. And as often with sequels, there's a bit more of everything. The basic idea was that an obstacle course in MLP would obviously be inspired by equestrian sports.
For context, this isn't exactly a military exercise, but rather a part of in series of tests (or maybe training) which willing adventurers must pass if they wish to receive quests from Equestria's administrative branches. After all, you can't just send any noob on a journey if you can't know for sure what awaits them...
I wasn't really sure whether to add the sword there, since somehow it doesn't seem to be fitting into that spot very well - let's just say that Flash Magnus insisted him to put it on.
Here's how just the outlines looked, although I did some small additions/corrections because I just can't help myself: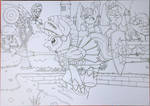 My Little Pony
© Hasbro
IMAGE DETAILS
Image size
4670x3295px 29.71 MB