I dunno how many of my followers are from the Antelope Valley, but for any that are and just because I'm so proud, my "African Mosaic" watercolor painting got into the juried art exhibition - Encore - at the Palmdale Playhouse. :3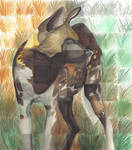 He'll be on display at the playhouse until November 2nd, along with lots of awesome art by some super people. So if you wanna see him in person and happen to be in Palmdale, that's an opportunity to do so.
And if anyone wants to see what other things I do on the Intarwebs, I have a site that acts as a central hub to things like Twitter, Facebook, Tumblr, Hitbox (a Twitch substitute), places to buy mein arts, etc. That's over this way:
about.me/juliagrammer
And thank you all for following my work, you guys are the best. <3

I dunno how many people saw it after the opening to be honest. XD But the opening was packed, so it felt pretty special. <3 It didn't win one of the prizes but just being displayed was nice; I think they said they had to turn down something like half the people that entered.