I'm open for Point Commissions again! My membership will be expired soon and I need a few points for my contest

There are two options (keep in mind that the drawing style could be slightly different from the devations which are shown as examples) :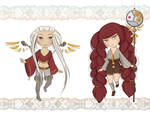 1. Fullbody Chibi (colored and shaded) for 200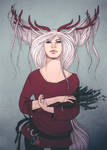 2. Knees Up (colored and shaded) for 200



What I will draw
Original Characters
Fanart (in my style of drawing)
Anthro/Mecha (although I haven't got much experience with this, I will try my best : D)
What I will NOT draw
Yoai / Yuri / Hentai etc
much nudity/violence or something I find offensiv
detailed backgounds
I prefer drawing females, but I will also draw males... maybe... it depends on your request.
How to commission
Send me a note with
- Type of commission
- as much information as possible about how the result should look like (for example the characters name, her/his personality, clothes, speficic features...)
- Reference(s)
- Questions (if something is not clear)
I willl only open three slots, first come first serve!
All slots were taken, thanks!

1.

2.

3.