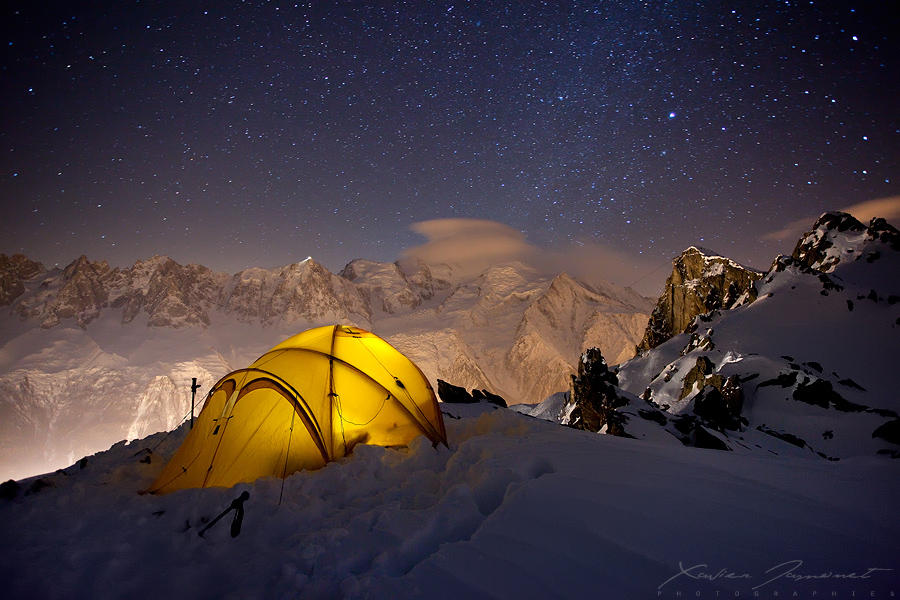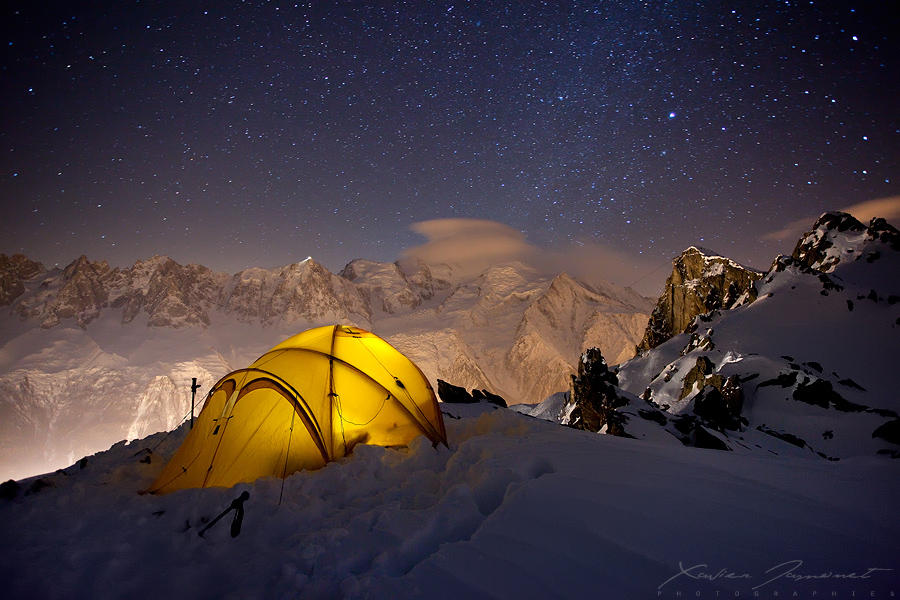 Watch
Hello!
This is a picture of the night of the 5th march 2011... A night spent under the stars on the summit of the Brevent in the Chamonix valley in french Alps...
We were front of the Mont Blanc, the highest summit of the Alps, an amazing scenery.
The mountains remains enlighted by the lights of the town in the valley, giving a really particular athmosphere.
The sky was amazingly clear, only the summit of the Mont Blanc was clouds covered.
A great remember
Canon EOS 5D mkII - EF 17-40 - tripod - 30sec @ f4 and 1600iso - headlight for the tent lighting

©Xavier Jamonet
Website
l
Facebook Page
l
Workshop in Iceland - June 2011
Edit : thank you so much everybody for the DD and for all your comments and favs... wow!

Daily Deviation
Given 2011-04-08
~colourish said;
"It's such an amazing picture that reveals another concept of paradise. Makes me wonder why I am here and not there."
*Linkineos said;
"What a wonderful and peaceful capture! You can really feel the coldness and the magic of the stars!"
=GraphiteColours said;
"The lighting in this photo is just phenomenal! The setting is wonderful and the stars look close enough to touch - this scene is so breathtaking that it almost feels surreal!"
Another night in Paradise
by *
XavierJamonet
(
Featured by Anoya
)
At first i thought this was digital art.

This is probably one the best night shots that i have ever seen.

The way the photographer managed to capture this moment taking everything in count shows a very advanced technique, unique talent and vision. Four very interesting parts in here: the "front", the near rocks, the enlighten mountains and the beautiful clear sky,working really well together.

A great moment and atmosphere stunningly captured. Not everyone can take a photo that really makes you feel like you are in there and even make it look so worm when its a snow landscape.

A total success ! Congratulations
The Artist thought this was FAIR
11 out of 11 deviants thought this was fair.
If any thing came near to perfect as far as photography is concerned then this is it. One must take into consideration, that this is not just a picture of a tent on the mountainside. The EXIF data tells us that this capture was created when it was dark. The photographer has used his skills to capture the available light (by that I mean the 30 sec. exposure and an ISO setting of 1600 to increase the sensors light sensitivity). The idea of putting a head torch in the tent to brighten it up appealed to me. By doing this the tent has it´s "own light" and stands proud from this incredible scene, but is also an integral part of the whole.
A very impressive capture, with clear and precise details. My compliments!
The Artist thought this was FAIR
11 out of 11 deviants thought this was fair.