WELCOME TO x-Wolf-Paws-x!
And a HUGE thanks to anyone joining us or watching us!
Our aim for this group is to give recognition to the best of the wolf art here on dA.
Everyone is welcomed. However, we can only accept
advanced to professional art
because we want a high quality gallery.
So please join and submit only your best art! Not all of your art will make it in. (See below for more info on where to submit as a beginner-intermediate artist.)



"Beginner-Intermediate Artist Collection"
If you are uncertain that your work will make it through our high standards, or you are new to our group, please submit it here first:
x-wolf-paws-x.deviantart.com/f…
We will notify you if your work is acceptable for our gallery.
If not, we will send it to another group who would be just as eager to have your art in their gallery!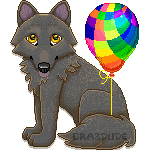 Rules

Everybody can join!
You don't have to be a popular artist.

Realistic AND fantasy wolves are welcome!

1-3 deviation/day/folder

The quality bar is high.If you're new and not sure if your art will make it through, please submit it here: x-wolf-paws-x.deviantart.com/f…

Your own art only, please!

NO
Violence and bloodshed[excessive blood]
,
or
nudity of any kind
will be accepted. (This includes
"Cartoon nudity"
)

Anthro/Werewolves will receive extra scrutiny
, since some things may be deemed inappropriate.

For photomanipulations,
make sure to credit the photo(s) owner
!

We do NOT accept profanity
(curse words, swear words, etc.) either on the artwork itself or in the artist's description. This is for our group's reputation.

No adoptables
, sorry.

No pure advertisements
.

No T-shirt designs
. We are dedicated to art and photographs of wolves, T-shirt designs tend not to be original.

/

If your work gets declined, it doesn't mean you are a bad artist or your art is bad.
Please make sure to read the rules carefully.
If we decline your work, we will add a comment why I decided not to add it to this group, and a helpful critique.




FEATURED - FOLDER

Every day I go through the submissions to choose the best work add it to the Featured folder. This work will at some point show up on a journal using :thumbs.
If you have any questions, please don't hesitate to contact the founder:
RabbyoSaberwolves