Follow me on Social Media!
________________________________________________________________________________________________________________________________________________________________________
COMMISSION MENU + PRICES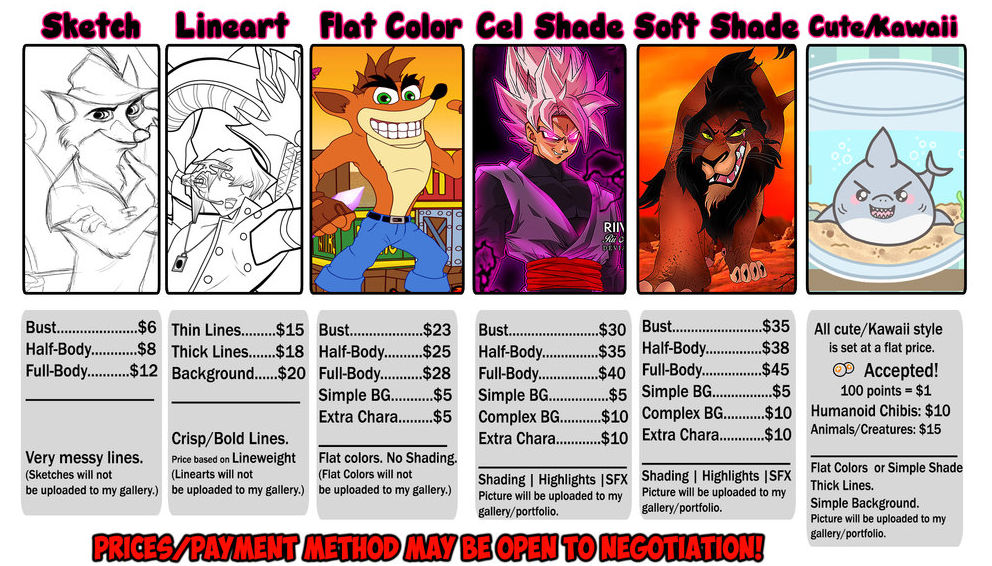 What I will Draw:
Fanart
(Of Any Anime | Game | Series)
Video Game CharactersOriginal Characters
(OC's)
Character DesignWeapon/Armor/DesignKawaii/Cute/ChibisYaoi/Shounen-Ai
(No Porn, Only Soft)
Sensual/Sexy/Romance
(No Hentai)
What I will Not Draw:
Dragons
(Not Enough Experience)
Mecha
(Not Enough Experience)
Furries
- (Animals = Yes, Anthros = No)
Hentai or Erotic
(No Hardcore)
MPREG or BBW Fetish
(Absolutely Will not)
Obnoxiously messy/stringy hair
(Too Tedious)
Obnoxiously deformed bodies
(Bodybuilders, Chicks with size triple K boobs.)
Your OC x Canon Character
(Pls just no)
Art size terms and Specifics:
Bust:
A headshot ending around the boobs/pec line.
Half-Body
: Ends at the waist line.
Full-Body
: Ends at either the shin or the end of the shoes.
Simple Background
: A background with a design or pattern. Or a stock image.
Complex Background
: A full scene that I have to draw. Nature/Tavern/Beach etc.
What I need from you:
Email / Comment / Note with my commission form filled out with what you want.
Character | References | Background etc. Payment sent to
PAYPAL
once I confirm the commission.
_________________________________________________________________________________________________________________________________________________________
---
AVAILABLE AND ACCEPTED FORMS OF PAYMENT
I will accept

| :bademoticon: |

| Wow Gold / Bnet Balance | Art Wishlist Items


The amount of the currency is still relative to the price in USD:
I can refuse certain currencies if I am not in need of them at the time of commission request.

100

= $1
3 Month's of :bademoticon: = $15
1000 wow gold = $1

---
COMMISSION FORM
Please copy&paste this form and fill it out in the
comment/note
you send!
OC or Fanart:Number of Characters:Characters Name: References:
(Send as many as you like. But I will not accept bad quality or small references)
Color palette:
(Send a pic of your color palette if you have one)
Reference Sheet:
(Send your OC reference Sheet if you have one)
Bust | Half | Full Body:
(Tell me which size you are ordering)
Coloring Style:
(Soft or Cel Shade)
Race/Species:
(Humanoid, Elf, Dragonkin, Neko, Etc)
Hair color:
(Black, Red fading into Black, etc)
Eye color:
(Blue, green, brown, etc)
Clothing Style:
(Goth, Hipster, Fantasy, etc)
Expression:
(Angry, Silly, Scared, Shocked, etc)
Background:
(Simple or Complex)
Scenery:
(If complex is it day/night, Fantasy, Modern, what kind of scene?)
Fonts:
(If you want the picture to have a speech bubble or font anywhere. What is the font name?)
Extras/Addons:
(Tails, Ears, Piercings, Tattoos, Plushies, extra items.
3 items free. More than 3 = +$5
)
Agreed Payment method:
Default payment is

. Unless we have made other arrangements.
---
TERMS AND CONDITIONS
You are responsible for the
Paypal Fee
. Not me. When using paypal pay in
'Goods and Services'


Absolutely do
NOT
complain about prices. I charge what I think is fair for my time and effort spent. I will literally
ignore you
if you get rude with me about my prices.
Make sure you read my Commission Menu before reading and commenting on this form. If you don't and comment anyways I will assume you have. If you ask a question already covered there I will direct you back there to read. I didn't spend all that time making the menu for nothing.


I do not upload un-finished works to my gallery. (Sketch, Lines, Flats) that being said finished work will be uploaded to my gallery to further my portfolio.
You may ask me not to do so on a extremely traumatic or personal reason, but otherwise I reserve the right to display my work.

I'll require payment before working on any commissions. This includes all forms of accepted payment.

, :bademoticon:,

, WoW Gold. That being said if the commission is above $30 I will take half now and half upon completion. You will not receive the un-watermarked file until the entirety of the balance has been paid off.

---
TIME IT TAKES FOR THE COMMISSION TO BE COMPLETED
The commission depending on complexity varies in time spent. Below is a reference chart:
The amount of time is not DEFINITE. It is simply going by the LONGEST wait time you will experience.


Kawaii/Cute Commission: 1 week


Sketch/Flats: 2 weeks


Lineart/Full Colored work: 3-4 Weeks depending on how busy I am

My goal is to complete each commission within 2 MONTHS of getting the initial payment. IF SOMETHING COMES UP, or if I find myself unable to complete your commission, you'll be getting a full refund.

WIP Screenshots available on request! They will be heavily watermarked and taken by Lightshot.


REVISIONS:

I do offer revisions to the SKETCH only. Once the Lineart Process has begun there will be no revisions for free. If you are adamant about a revision it will be $5 per revision.
If I have forgotten a small detail feel free to let me know. I want you to love your piece. Incorrect colors can be changed free of charge as well.
Though this can be avoided if you provide a color palate.

I do not offer revisions to the commission that were not included in the initial discussion for your commission idea. If you are adamant about such changes there will be a $5 charge per change.


Image Specs:
Canvas Size:
1000x1000 of 3000x300
These sizes will be scaled down to appropriate uploadable sizes.
You will receive a Unmarked 300dpi Jpeg version of your art privately without my Deviantart url across it.
My signature will still be on it. Do not remove it.
If you'd rather a physical copy of your commission than a digital, you may ask for that. You will have to pay for the shipping though.

---
TERMS OF SERVICE

By commissioning me you are agreeing to the entirety of the below written, failure to read through the TOS is of the clients fault.
I reserve the rights to all artwork created by me, to upload if I so choose - the work to my portfolio, distribute with credit to the client where it is due.
You may not use my work for profit or monetary gain.

These rates cover the labor ONLY. If you wish to purchase the rights to the image, that may be discussed at anytime. I reserve the right to use the image
in my portfolio/website/Social Media. It's your artwork, but I will still need to use it to get more work for myself.

DO NOT RE-UPLOAD YOUR COMMISSION ANYWHERE WITHOUT CREDITING ME.
As stated in my menu here is a list of what is fine and what is NOT fine to do with the commission.


Use it as a Icon/Avatar/Profile picture for your social media online. (Fb, Tumblr, IG, Twitter, etc)

Use it for roleplay purposes. You bought it, it's yours after all. BUT YOU MUST GIVE CREDIT FOR THE ORIGINAL ART.

Print it off the computer and hang it on your wall. Take it to a print shop, print it out on things. (T-Shirt, Mug, Mousepad) as long as you DO NOT SELL IT.

Using it as your desktop/Phone wallpaper

Put it on your profile page or upload it to your gallery ONLY WITH TAGGING AND CREDITING ME.


Claiming the artwork as your own when you clearly did not make it.

Uploading the artwork to your gallery on DeviantaART without any visible or easily found credit to me.

Uploading it to a fan anime page on Facebook/Twitter/Tumblr/Instagram. DO NOT UPLOAD IT THERE. I UPLOAD MY ART THERE MYSELF.

Selling it as your own product on websites like facebook and Teechip.


IF I FIND YOU HAVE SOLD MY ART AND GAINED PROFIT OFF OF IT I WILL BACKLIST AND BLOCK YOU.
---
I have the right to reject any commission requests for whatever personal reasons I may have. I will tell you if I feel unable to do your commission before any sort of payment would be made. Or if things change and I am un-able to complete it based on fault of my own, you will receive a full refund.
________________________________________________________________________________________________________________________________________________________________________