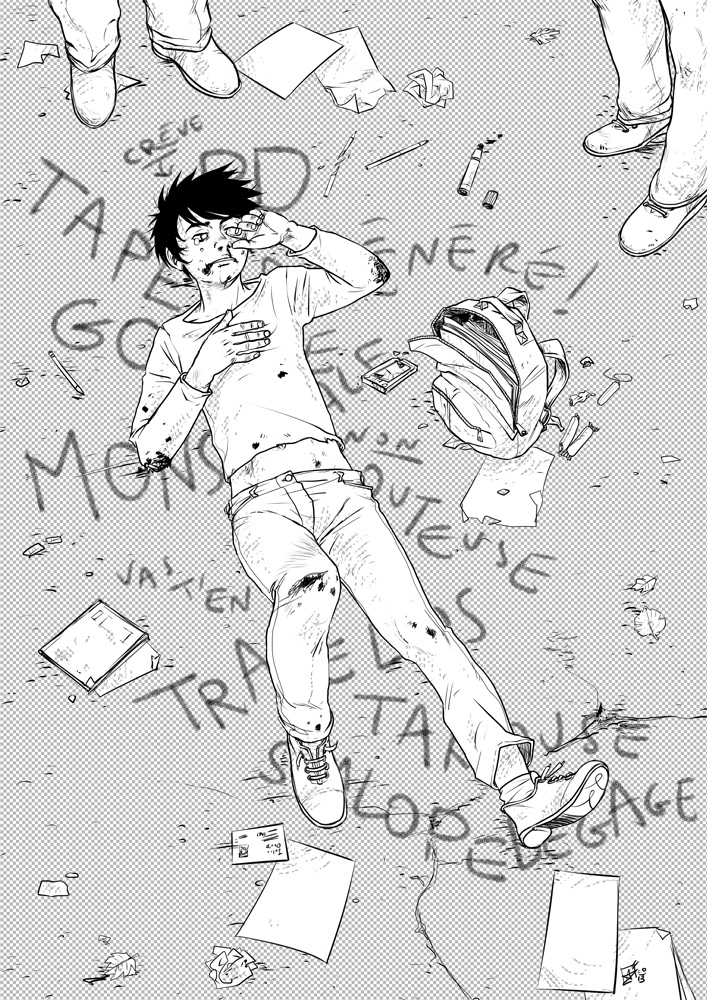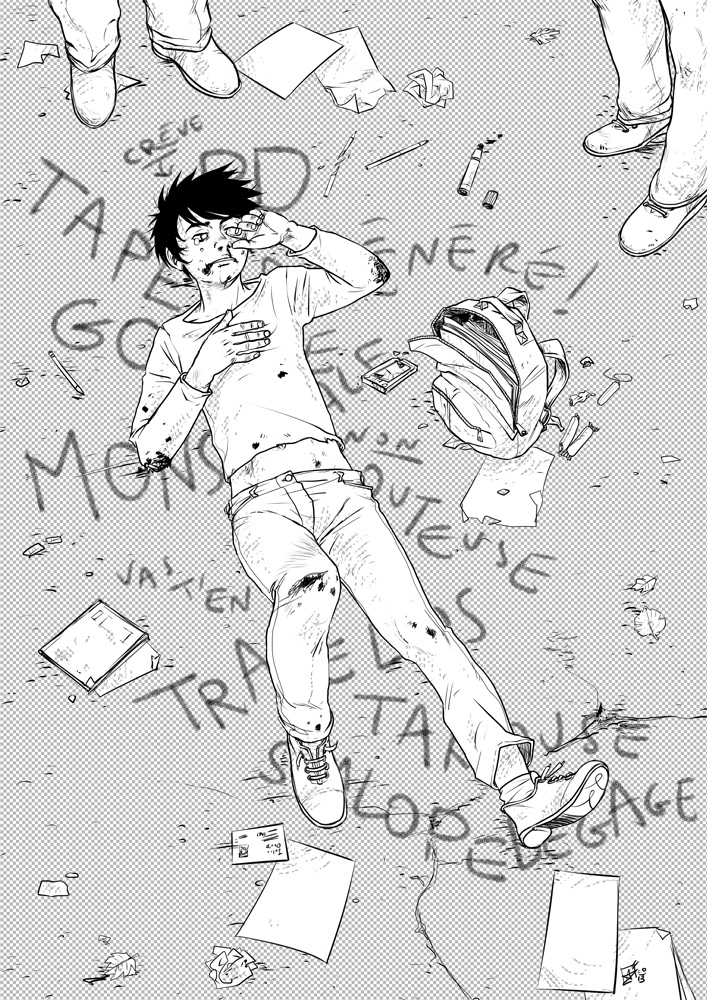 Some kids are being bullied because of who they are, how they behave, whom they hang with. Some kids are being bullied for no reason at all. Some kids are even bullied at home and have no choice but to get out and find another place, another town, other people to grow with and learn love and self esteem.
I made this picture as a homage to "Le Refuge", a French association that acts as a shelter for all the lgbt/queer teenagers out there who have nowhere else to go or nobody else to rely upon.
But what I described in my picture isn't only a French story, or even a lgbt story. It's a universal story. A sad story.
Let's try and be more aware of that, to prevent bullying as much as we can.

This picture is (c) Xael.
If you wish to use it please ask and credit me.

This piece would be perfect for a project we are developing -- an online gallery for artists who have been bullied or who explore the theme of bullying in their work. It's called the You Will Rise Project. Check it out here:
youwillriseproject.com
and read the "Submit Work" section for details about sharing your work on our site. Thanks!
Reply

Breaks my heart, I just want to give this kid a hug.


Reply

I wish all the bullied kids did receive a sincere hug like yours.

Thanks for commenting.
Reply

Higanbana - The first night is a visual novel the describes bullying as its major theme. It's horrible how impossible it is to fix bullying because the word 'bullying' is accepted while 'stalking' 'abuse' etc etc are not.
'Bullying' is a kid's word, so people really don't take it seriously.
We live in such a fucked up society. It's crazy.
Reply

"'Bullying' is a kid's word, so people really don't take it seriously."
Your little phrase here is so implacable and true. I'm working on a visual novel around the subject myself, and I'll kip in mind what you wrote, 'cuz it sums up everything.
Thank you.
Reply

I really appreciate this.
Reply

Do you mind if I share this? like in my journal and on facebook?
Reply

Oh by no mean, I'd be happy on the contrary.
As long as you credit me and my DA or website or Facebook or whatever... The more people see this kind of visual testimony, the more'll understand I hope.
Thanks so much.
Reply

That's a very strong piece you made there. I've had to endure my share of bullying when I was young. Now that I've got a kid of my own, The idea of him being bullied too is almost unbearable. This drawing just hits home in a very good way, it shows exactly what kind of damage bullying can cause.
Reply

Thank you for sharing your story. It's full of sadness yet there's hope too, since you give all the care you can to your little one.
And thanks so very much for liking my picture and its depiction of bullying.

Reply

Heh no problem

I think a lot of people have experienced bullying one time or another. I myself landed on my two feet, and am doing the stuff I like (and earning money with it too; )) so I can't complain

Reply

great work and meaningful, cruelty is very much human and the kindness we can return is love and to see with open eyes and mind. Im glad you illustrated this piece, reminds me of my friend who very much lived a lonely youth and had traumatic experiences that eventually led him to run away from his home and live on the streets in shelter homes, slowly recovering meeting new people and making friends, but numbing his pains with alcohol.
Reply

Thank you for sharing your friend's story to me, it's really moving.
I'm glad to see so many people here and there telling me this picture means something for them.
Like you said, all we can do is share the love and see the world with open minds and eyes.
I hope my work contributes to this task.
Reply

Coucou miss ! Ça fait plaisir de voir plein de nouvelles choses, tu bosses à fond !
Je n'ai malheureusement pas le temps de mettre un comm' partout bien que ton travail le mérite, du coup je te mets un petit mot ici, ton illu me touche particulièrement, je la trouve très belle et très angoissante.
Ça me rappelle des choses de l'adolescence, ce n'est pas une période de vie facile, le regard des autres compte exagérément quand on se construit. Brrr...
Reply

C'est toi qui me touches d'écrire ça!
J'ai l'impression d'avoir un peu atteint ce que je cherchais à transmettre dans mon image, d'après ce que tu dis.
Merci.

Reply