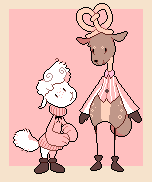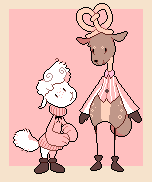 Watch
Wow I haven't pixeled in ages.

Cuuute. also purl calm down jesus, dont try to eat the baker
Reply

Thanks!
Yeah I'm pretty sure she'd get a lifetime ban from the bakery for that. But then she's like her only customer so probably not.
Reply

Wow wow wow wow i love these two <3
Reply

Does Pretzelle like to eat pretzels?
Reply

ahhh your style is so precious!! ;0;
Reply