Well, we got through year 3 of Wyngro everyone! I can't tell you all how proud I am of all the artists that have joined this group in that amount of time, and how much you've all helped it grow. I've learned so much from this group, working with people, communication skills, organizing, art in general, (especially have gotten a lot better at color theory!) and just meeting and getting to know an assortment of interesting people.
I'm not gonna lie, there were a lot of really tough obstacles this year to get past, a lot of negative vibes, and a lot of people that have come and gone. I think that it's a very easy option for a lot of leaders to abandon a project when things get tough and relationships get tested.
But like the cornball I am, I always think back to a quote from good old Dumbledore, where sometimes we must choose between what is easy and what is right.
Although it wasn't easy, I worked through the struggles of toxic people and negativity, because I believe in making this a place that people can enjoy, grow together, and be challenged, all while having fun.
Wyngro has grown so much, and as long as there are people out there to enjoy it, I will push myself to come up with new and interesting ways for people to participate in it. I could not be here of course without such an amazing team of staff, artists, and supporters like those of Patreon. But even those who just make the effort to say something nice to me, or about the group, or something nice about someone else's art. That's what it's all about. Just being creative and supporting each other as artists.
I can't wait for Year 4 of Wyngro and what it entails. We have so much to show you today, and even more this year. Thank you for being supportive, patient, and having so much enjoyment of this group. I love you all.
Alright enough sappy stuff, you guys want to see this year's goodies? Have at it!!
Leaf Spikes!
Huzzah! A new upgrade to slap on your back! Nifty!
This new upgrade is also available to be freely given away to your adult wyngrew today! Something fresh and new for those who've already gotten the other leaf upgrades!
Wait! But what about Leaf Markings & Leaf Ears?
Leaf ears are a wyngling only upgrade that you can apply to a MYO today only! [
click here!
]
Unfortunately after two consecutive years of service, Leaf Markings are not making a return this year. Leaf Markings are considered Retired, though who knows? Perhaps some year they'll make a return! These special yearly upgrades tend to make like a tree and
leaf
when they want to, hehe.
We know the absence of the leaf markings is disappointing to a lot of you, but they will be back later! Please try to be positive about what IS here and not concentrate on the negative!
Rules for Leaf Spikes:

Adult Wyngrew only!

You may only apply this upgrade to ONE of your wyngrew!

All back spikes when first added must be the same color! May be color mixed later!

Must be new fullbody art.

Please upload them to [
THIS FOLDER!
]
---
The rules for Anniversary MYOs and what's available today for them can be found here on our [
Preparation Announcement Here
]!
Also, we would like to reveal a new time-sensitive Quest for those wanting to get to know our new NPC, Ivy a bit better! Can your wyngro pass the trials she put before them in order to receive something new?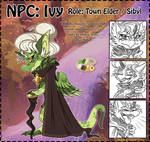 [
MARK OF WYNSIPH QUEST
]
The reward for this quest is a bit different than normal: instead of an item, your wyngro will receive a Tattoo instead!
What's a tattoo?
Tattoos are odd, mysterious markings that only very wise, magic-oriented wyngrew have the ability to bestow upon others. In the olden days, Tattoos were used to mark those of different tribes, families, or even castes from one another. They were often sources of honor and inspired loyalty, drawing different wyngrew together under a common banner.
Nowadays most find tattoos more a simple decorative choice instead of a life-changing mark, though in some circles a wyngro may be looked down upon (or worse) for bearing the wrong tattoo.
As for applying a Tattoo, here's the basis of what you need to know!
Tattoos!
Cannot have markings overlapping Tattoos
Tattoos can overlap Stamps
Tattoos are PERMANENT! Meaning they can never be moved or removed
Tattoos must be an already present color on the wyngro's body when applied (base, secondary, accent, ect)
This Tattoo can only be applied on the body. (anywhere below the chin)
---
New Items for the Store!
New Shop items? Ooooo what do they do?
These new items are optional things you can use when breeding your wyngro! One allows you to give your bred wyngro ANY eye color you want. The second will give you a secondary color taken from the opposing parent that the base color is not drawn from (giving a more color variety and options to have both parent colors on the wyngling!). This option was such a hit during Febuary, we decided to turn it into a year-round option! These colors are hand picked by staff to make sure the pallets match well and are generally appealing, so there is no guarantee you'll get the exact color you want. It's a fun surprise! (If you're willing to take the risk.)
Lastly, the third item will allow you to pick your base color between the desired parent.
---
Well that should be it—
Oh wait! A sudden wind, the smell of the ocean … The surprises aren't over yet!
We have two new Subspecies to announce: Quills and Finns!
These subspecies are relatively common (though, of course, not as common as Standards) throughout Antova region and beyond. Finns are a common sight in port towns, and Quills tend to go wherever the wind takes them. These subspecies also seem to have certain magical abilities from wynglinghood that make them quite interesting!
If you want to know more, feel free to take a gander at their full species details on our website!
[ FINN PAGE ]
[ QUILL PAGE ]
Expect to see more of these guys around! For now, here are the first!: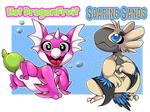 These subspecies have been in the works for over a year now, and we're so excited to finally have them officially in the group. We can't wait to see more pop up in the future and become more ingrained into the world and lore.
---
Well, that's a wrap, everyone! Time to celebrate!
(And please be patient while we approve and moderate everything today!)
-Nestly & the Wyngro Team