Open for commissions made in my signature style
Commission Me

Description

STATS

Name:
Inka
Gender:
Female
Current Age:
Teen
Birthday:
November 27th
Form:
Bipedal
Species:
Imp Wyngro
Known Upgrades:
Elegant Hair| Lop Ears | Long Curl Tail | Brow Changer | Thumbs | Double Dew Claws | Teeth
Quirks:
Friendly, giggly, flirty, emotional, sassy, elegant, sweet, secretive, easily cries, easy to flatter, snooty, creative, fashion diva, temper like a raging rattle cow.
Accessories:
A pink jewel centered on a little cape that she never takes off.
Location:
Wynsiph
---

NPC
RELATIONSHIPS

Romantic:

| Family:

| Close to:

| Enjoys company of:

| Shrug:

| Not a fan of:

| Very tense:


Nymble
:

Dryft
:

Alma
:

Azoth
:

Graw'falla
:

Kalypso
:
---

Pets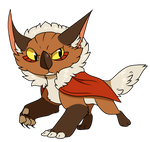 "Talon" the Coatala
Her trusted coatala that accompanied her all the way from Antova. He is a dedicated coat that has been trained to protect Inka. Although he is not exactly affectionate towards her. Protecting her seems to be more of a job, rather than a bond. She will often try to hug and cuddle him, regardless of his protesting moans and hissing.
---

MAGIC

Inka was trained in magic at a very young age in Antova, and carries that back with her to Wynsiph. She loves to demonstrate the beauty of magic and the skills she's fine tuned. She favors Light magic the most, especially healing and purifying. This mindset may come from the city she was raised in.

Light
| Level: Intermediate
---

HISTORY

Inka comes from the capitol of Antova, claiming to have "escaped", though she is hesitant to elaborate on what exactly that means. She's very secretive about her origins in Antova and refuses to talk about it with just anyone. She does, however, love to flaunt about her expensive (although brief) education at the renowned Tassledon school.
Inka apparently traveled all the way to Wynsiph by herself, with her Runeboo Planchette.
The rest is yet to be revealed!
---

PERSONALITY

On the outside you'll find a polite, elegant, sophisticated Imp that loves to engage in small talk and fashion. On the inside however... an aggressive, incredibly passionate activist for what she believes in, trying desperately to burst out. Inka has a very strained personality in which she was raised to present herself in such a way deemed suitable for society, but at her core she can be very hostile and acts up if you get under her skin too much.
Inka is extremely creative with design and loves to tailor custom clothing in her spare time for Wynsiph residents. For being so young, she is incredibly responsible and mature for her age. This sometimes makes it hard for her to be a kid and have fun at times, always taking the responsible role and getting everyone back on track and organized.
She is very perceptive to things around her, especially when it comes to emotions. It's too bad her own emotions are not always very balanced, though.
---
Image size
1218x1397px 1.51 MB

Very sweet face! uwu
(I WAS ON THE WYNGRO WEBSITE AND I SAW "NO CAPES" FOR THE CAPE WINGS I'M CRYING)