Description

STATS

Name:
Giacomo
Pronunciation:
Jaque-a-moh (
Listen
)
Gender:
Male
Current Age:
Teen
Birthday:
December 30th
Species:
Quill Wyngro
Form:
Bump Nose, Bipedal
Known Upgrades:
Hair tuft | Fluff Cheeks | Brow Changer | Pupils | Thumbs | Copter Ears | Prehistoric Markings | Ori Legs | Zigzag Tail Tip |
Quill: Feathered Crown | Quill: Swift Wings
Quirks:
Neurotic, Inventive, Cynical, Panicky, Reclusive, Hyper-focused, Self-Doubt, Non-Confrontational, Introverted, Responsible, Lawful, Insecure, Afraid of heights.
Accessories:
His blue goggles (That he never takes off)
---

NPC
RELATIONSHIPS



Romantic:

| Family:

| Close to:

| Enjoys company of:

| Shrug:

| Not a fan of:

| Very tense:


Iset
(mother): Giacomo doesn't think he is very close to his mom, but she's all he knows now, so he's a bit clingy of her anyway. He finds it a bit strange how he can feel distant and yet close to someone at the same time. Like a stranger you have no choice but to cling to for support. She doesn't say it, but he knows she's disappointed in him, mostly because he's weird and acts out when he's panicking. He knows, but he can't help it, and her silent frustration can be picked up more than she intends.

Wenn
:

Nymble
:

Dryft
:
---

MAGIC

Giacomo loves to read about magic! Out in the field? ....That's a different story. He knows some basic wind magic being a quill, but the thought of being up that high honestly makes him want to puke so...
Wind
| Level: Basic
---

HISTORY

Giacomo considers his childhood... bad. He doesn't like to think about it.
Too many close quarters with weird wynglings at the Nook and being called a weirdo. He remembers a lot of his dad playing games with him that he enjoyed, and a lot of his mom not being around. Until one day when his dad was suddenly gone and his mom was really distant and crying a lot. He didn't like those times. He was at the Nook a LOT during those times. He spent a lot of time in the attic of the library until curfew, absorbed in books and adventures and figuring out how things worked.
He liked to explain how things worked to those his own age, but they were either bored of the topics or called him a smarty pants know-it-all. He quickly came to realize that if you were clearly better at something, you were not supposed to show it. So he started to keep his inventions and researching to himself, afraid he would be made fun of for it otherwise.
Things are better these days, because he gets to live in the library and take any books he wants up to his room in the attic to read by himself.
Sometimes he watches out the window on the far end of the attic where you can kind of see the Nook in the distance, and wonders what it would be like to have friends to play with out there.
---

PERSONALITY

Giacomo is a nervous wreck around gros, and prefers to absorb himself into a good book or tinkering with his little machines. Talking his thoughts out to his runeboo Novel helps him process his feelings, but he has a hard time sorting them out regardless. Giacomo is easily disturbed by small things that other gros do, and has a lot of sound triggers that make him extremely uncomfortable and unable to cope well. Things like loud chewing, hiccups, coughing, snorting and other bodily noises make his skin crawl. Other little things include looking at Gill's crooked neck, the sound of silverware in a drawer, humming, whistling, flickering lanterns, wide open spaces... he has an entire list that would fill up this page.
He tries to make friends. He likes the idea of being happy and smiling and playing like the other kids, but something about it also repulses him and he often tells himself it's a crappy thing to think. What's the point of being just like everyone else, anyways?
P.S.
- Giacomo hates when gros give him silly nicknames or mispronounce his name wrong.
---

Pet: Novel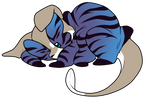 Novel is a true friend that is always there when Giacomo needs him, always there to talk to and not pass judgement on what he has to say. Novel never calls him a weirdo, or makes weird sounds. He's quiet and snugly and his colors are so pretty to look at. Sometimes Giacomo likes to trace his claw along the stripes to calm himself down. Novel seems to enjoy it at least.
---
Image size
1218x1397px 1.76 MB