127 Favourites
31 Comments
4K Views

STATS


Name:
Alice
Ataru

Gender:
Female

Current Age:
Middle Aged

Birthday:
April 25th

Species:
Standard Wyngro

Form:
Bump Nose, Bipedal

known Upgrades:
Hair tuft | Pupils | Horn Stubs | Fuzzy Lop Ears | Curled Fluff Tail | Pure Paws | Thumbs | Finger Paw Pads | Paw Pads | Clover Markings | Teeth | Brow Changer | Fuzzy Limbs | Smooth Shaped Mouth

Quirks:
Positive, encouraging, go-getter, gentle, enthusiastic, short temper, clumsy, efficient, organized, not a pushover.


Accessories:
Her Reading
Glasses, White Scarf, and Pristine Teaching Vest
---

MAGIC

Alice has spent more of her time learning her A B C's and 1 2 3's instead of magic, but has a decent enough knowledge of wind, magic thanks to watching her mother while growing up. Though … Alice can be quite clumsy in her attempts to put that knowledge into practice. (AKA watch out for anger whirlwind rages!)

Wind
| Level: Basic

---

NPC RELATIONSHIPS


Mother:
[Alma]

Brother:
[Rudy]

Friendly with:
[Dusty]
---

HISTORY

Alice is Alma's eldest child, and has grown to see the Nook expand a lot during her lifetime. One thing that really left a strong impression on her, was the number of her playmates growing up that seemed completely unable to do 'basic' things. Things like reading bigger words, or writing clear letters. In fact, some of her playmates from the local farming community couldn't even read at all! Even as a wyngling, Alice made it her mission to read stories to her friends, or help them try to learn how to read themselves.
This passion only grew stronger as she grew older, and her small 'teaching' group of friends slowly grew into larger groups of wynglings. Eventually, Alma surprised her daughter with a new expansion to the Nook: a classroom! Alice was given an official teaching position, and has been schooling the Nook's wynglings ever since.
---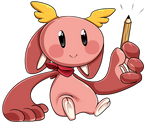 Alice named the class pet Potato, dubbing the soft pink noc "as soft and sweet as potatoes and molasses". She picked the Noc up fairly recently from Kalypso after the two decided to do a sort of trade. A very well tempered Noc, for the prospect that all wynglings growing up in the Nook would use Potato as an introduction on how to care for animals and pets. Kalypso was very passionate about this idea.
Potato quickly came to serve an invaluable role as a quiet pillar of support and hugs for more fragile students who need a smol pink friend who will look at them with loving eyes that seem to say: "I believe in you!"
Alice lets students who are struggling not only have smaller sessions with her, but also 'teaching time' with Potato! To read to the noc, or 'teach' the noc math, to give them a loving unjudging friend that will never rush or belittle them.
Needless to say that Potato has quickly become the Nook mascot and all wynglings love her to death. Potato especially loves joining for tea parties and getting dressed up. She makes a lot of cute cooing noises and baby talk, often mindlessly repeating words in a slur.


---

PERSONALITY

Alice is an extremely enthusiastic teacher, but that enthusiasm can sometimes get her in over her head with overreaching projects for her students. (She's been known to blow her top now and again when young ones go too far, resulting in a lot of screaming and time outs) Alice has also been teaching long enough that such incidents are now few and far between, and she's learned much more about what works for youngsters and what doesn't. Wynglings love her field trips, but hate her spelling tests!

As ironic as it is, Alice often speaks in a sort of bad-grammar slang, has terrible handwriting, and is extremely clumsy. Despite this, she's excellent on picking out the mistakes of others, so don't let her exterior fool you!
Artist:
Nestly

Original Concept by
Anyachilla
Please note that NPCs are owned by the group and do not have an owner/artist in particular that owns them! So there is no need to tag anyone in your drawings of them!
IMAGE DETAILS
Image size
1600x1515px 1.31 MB