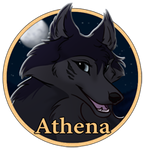 She sat alongside her mate, atop a great flat rock overlooking the river. Sunlight rippled off the gently flowing waters and light cascaded through the spring leaves like heavenly rays. It was a beautiful day, and as Athena looked across all those gathered and saw the excitement stirring through the ranks, she felt awash with relief.
There had been little reason to celebrate since Merrill was taken. Long enough for the physical wounds to heal; but the emotional ache had taken forefront as the days turned to weeks with no sign of her or her kidnappers. The Lady of Aryn was not prepared to give up, not remotely. Yet all this time hunting with nothing to show for it left a mark.
Hopefully, by the grace of the One, today would change that and bring life back into the steps of the Aryni. Today was not for grieving. Today was about new beginnings.
Eden approached them from the riverbank, her pelt groomed to perfection and a laurel of colourful blossoms over her brow. She was beautiful. Athena gave her pack sister an encouraging smile as the young wolfess padded gracefully up to stand before those assembled.
And it was good to see the joy in her nephew's eyes as his betrothed took her place beside him. A hush descended over the assembly.
Athena's silvery gaze was warm as she smiled at the young couple, and her tail brushed against Alcatraz's in a silent gesture of affection. It was time to begin.
"My Brothers and Sisters. Love has always been our strength, our deliverance. And today is no exception. Here, among the beauty of our blessings and the light of the One's grace, we will recognize the eternal bond between Master Kane and Sister Eden." She dipped her head before them both, "You remind us all that we need never be alone, for we are each of us united by the Great Spirit's Song."
---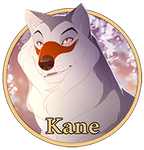 Kane was sitting beside his Aunt and Uncle, with his heart racing at what was about to happen. He was about to give his heart to the one he truly loved, and he knew that he wanted to be with her for the rest of his life. With everything that had been going on, this was something that he hoped would be joy and happiness to the pack of Aryn.

He looked on, and watched as his beloved walked towards him from the riverbank. She was as beautiful as ever, with the blossoms of spring across her head. Kane was looking at one part of her though, her eyes. Her yellow eyes were filled with joy, and he was happy that he was going to share his love with her.

As the two settled together, Lady Athena began the ceremony to bless the union of him and his love. When she mentioned their names, Kane softly moved his tail around Eden's, with a small smirk in her direction.

Lady Athena looked at the couple, and Kane turned to face her. He was prepared to say the vows that they both would speak, as Kane took a deep breath, before beginning. "Two hearts, one wish. Two tongues, one song. Two souls, one path." Then, Kane prepared his own statement, knowing that all was going to here him. His eyes began to water a bit, knowing what he was going to say. "Eden, you have been the blessing that has filled my heart. I will give all my love to you, through thick and thin. Whether we are far apart, you'll know that my heart is always with you." Kane smiled as he said this, and listened to what Eden's own vow would be. His head leaned in a little more, as he also prepared for their kiss of holy matrimony.
---
The last thing Eden had expected from her life was this. To be walking, before all of her packmates, towards the wolf she loved, so completely and hopelessly, wasn't something she had ever pictured herself doing. Her parents had raised her so distant from the pack, showed such little intimacy, that to announce her love publicly would have, long ago, seemed impossible.
Not anymore.
She felt the memory of Merrill's kidnapping keenly, and was reminded of it every second she saw her reflection in the water; she was reminded of it every time she spotted the wolves who had been hurt in the battle with the Blutwald rogues. And she remembered when she looked at Raphael. She couldn't spot him, but didn't have much time to look around, either - she only had eyes for Kane, sunlight washing his white fur, his chest puffed proudly.
She didn't want the pack to think her insensitive to their suffering, both physical and mental. But she hoped, maybe this union, this would bring a ray of sunlight into the heart of Aryn.
She listened with half an ear to the words Athena said, and saw Kane's mouth begin to move in the vows that had been prepared. Her heart filled with love towards him, and she momentarily forgot that she was supposed to say her vows, too. She hastily began, "Two hearts, one wish. Two tongues, one song. Two souls, one path." She took a deep breath and began the words she had prepared. "Kane, you have always been there in my darkest moments. From missing my brother, to helping me heal from injuries, you have been my rock - my moose," she teased. "Knowing that I am about to become a part of your family is the best feeling in the world - as is being loved by you." She smiled up at him, and then twisted her ears towards Athena to hear what was to be said next.
---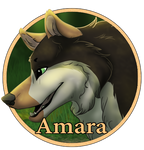 The road had been hard and long yet when the whisper of good news had come from Aryn Amara had all but burned her paws to get back to the pack. She smiled in the crowd of the pack. Kane had finally confessed feelings for a she wolf, and Amara felt the electrical jolt of happiness hit her chest.
Her heart sung for her friend. He looked so happy before the pack, eyes shining in unrivaled love for the she wolf next to him as Athena began the marriage ritual. Now Amara wasn't an emotional wolf, but listening to the vows Kane wove for Eden and then the return vows made tears spring to her eyes.
With the ceremony almost complete she smiled so large feeling the tears silently fall in happiness for his friend. Yet today was the day he did not escape. Today was the day Kane danced. She will make sure of it.


---

Riga sat among her packmates. The atmosphere was filled with happiness and love. The pup cherished it.
Not only had she found a father figure, but now a mother figure to look up to in the form of the she-wolf: Eden. Although her biological parents were loving and caring, Riga never saw her father much and her mother cared more about rebuilding their pack. The pup felt pride for her new parents and family, she owed them one.
As Kane and Eden made their vows, Riga felt a sob abruptly push out of her. She hadn't realized till then that tears were sliding down her cheeks. Her tears were a mix of relief, sadness, and joy. These emotions clouded her.
Riga realized what true happiness was.
---
The morning was ablaze, gorgeous and rich with the prospect of new life. And new beginnings, Seven thought warmly. Wolves milled about her and the hum of excitement rang low. The huntress felt a beaming smile illuminate her face as she followed Eden in close suite. The bride's pelt had been groomed and tidied expertly, and she radiated under the sun's rays. Preparations had begun early, to ensure everything was ready. For this was one of the most important moments of their lives! The auburn courser had been overjoyed when Kane and Eden had approached her only a few days earlier, announcing their engagement and asking her to take the place as Maid of honor. Seven had barely been able to contain herself! After all the turmoil and loss felt with Merrill's capture, the pack had found little reason to smile.
But this was a new day, a new start for them all. A chance to breathe life into the pack once more. Seven watched Eden take the steps forward, until she was standing alongside her betrothed. Kane's fur practically glowed, and she cast an encouraging glance in his direction. The two young Arynian's sat together, their tails twining, and Seven inhaled excitedly. This was finally happening!
Athena's words brought a hush over the crowd, and all turned to face the couple as they began reciting their vows.
---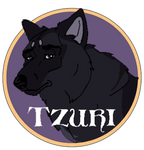 The Vicar was puffed so much with pride and happiness that he looked like a black cloud. His Uncle Kay, getting officially mated-! He was deliriously happy for the white wolf. If anyone deserved love and happiness, it was Kane. He was a great, honorable wolf, and Eden was a perfect match. Tzuri chuckled to himself.
Uncle Kay and Aunt Edie!
And, soon, cousins. In light of all that had happened, this ceremony and the future it promised almost drowned it out. Almost. He couldn't stop the stray thought that Merrill should be here, too, being just as happy as everyone else. He swallowed this thought for later. The One encouraged everyone to celebrate His many gifts to them. This was one, and Tzuri wouldn't let the Deceiver or his earthbound minions rob him or his family of joy.
His tail began thumping again as he focused on the couple. One day, it'd be himself and his beloved Shoshana. This made his smile return in full.
---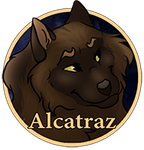 Even the grumpy Alcatraz knew how important this day was for the morale of the pack. A dark cloud hung over them all, dampening spirits, raising tensions, awakening grief. But today was a day that reminded them of their close ties, that they were a family regardless of the trials. Even Alcatraz admitted that sometimes a pack needed to just be together and enjoy being a pack.
And there was no more festive occasion than a wedding to do so, two wolves starting their lives together. Alcatraz knew well how big this was in their lives. He stole a loving look at his mate who sat behind him on the rock before the crowd, his pale yellow eyes glowing with affection. It felt a long time ago that they had promised themselves to each other, but still each time Alcatraz had cause to reflect back on it, it filled him with the same deep glow as the day it had happened.
Soon the pair stood before them, Eden well groomed and covered in flowers, and Kane looking as handsome as ever. Alcatraz smiled at his nephew. Charaka would be so proud… Alcatraz often missed the powerful creamy she-wolf who had founded Aryn with he and Athena. But seeing Kane.. he had his mother's eyes. It helped him know that she was still with them, though her son.
Athena brushed against him and began to speak. He offered his silent support as her words rang through the clearing, powerful and true, followed by the vows of Kane and Eden in turn. Each of us united by the Great Spirit's Song.
---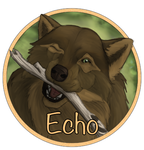 Echo sat in the middle of those gathered and glanced around with pricked ears and bright eyes. It was a beautiful day for such a beautiful ceremony and a much needed respite for the pack. Everyone had been working tirelessly in the pursuit of poor Merrill and spirits had been falling lower with every passing day of no news and little forward progress. Echo felt the pull of despair for her Sister's plight along with the rest of her family but losing hope would not find Merrill and everyone was in much need of a break. A wedding ceremony was the perfect thing to raise the pack's spirits.


As a hush fell over the crowd, Echo sat up as straight as she could and strained to see as Eden approached the front and Lady Athena's voice signaled for the ceremony to begin. Maybe sitting in the middle had not been the greatest plan. From the glimpses she could catch, Eden and Kane were both practically glowing as they addressed each other, affection clear in their voices. Echo had not had many chances to get to know Eden but she knew her to be a good wolf with a gentle spirit and she would make a great partner for Kane.


Echo smiled as she looked to Kane. She could just see his face from where she was sitting and the smile on it made her heart glad for him. She had been especially drawn to Kane and his rambunctious self when he was a pup and Echo felt honored that she had been able to watch him grow into such a dependable and hardworking member of the pack. Now he was taking the next step in the path the One had laid out for him and Echo was excited for the new couple's future together.
---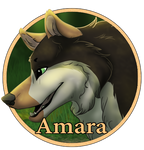 Looking around the group again as the ceremony continued, amara's emerald eyes caught a small little form bursting into tears. Amara moved swiftly, using a large paw to pull the weeping pup into her embrace. She had been informed upon arrival that Kane had adopted a young pup and Amara found Riga's tears stressful. She bent her head down and nuzzled the puppy.
"Don't be ashamed little one! You have a huge family now and I know your father will love to see you smiling on his big day. Come now show him a smile! Tonight we can dance and sing in his honor." Amara whispered, wiping tears away from a small innocent face with her thick tail.
---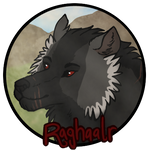 Soft and warm, happiness awoke within. A brightness, shared through the pack, was lit today. A relief. Raghaalr was grateful to forget the recent havoc. At least for a moment. Seated on the outside, the brutish female watched with a content expression, her paws tucked close and her ears lifted. The den was crowded with familiar pelts, tails wagging behind them. She felt more at home than she had in some time. Her ruddy gaze swept over the group briefly before focusing on Kane and Eden in the center, facing each other, expressions mirrored with delight. Love. Truly a magic that could not be tainted. A soft breath was drawn in. That was how it was supposed to be, anyway. The Warden smiled softly, her tail thumping against the ground as she listened. She closed her eyes. The pack was blessed to have these two young wolves, now together. A silent prayer was sent to the skies. Raghaalr tilted her head up, chest puffed with pleasure. Let this moment last.
---

Amongst her emotion, Riga felt herself being pulled into the embrace of another wolf. Her words were soothing to the pups heart and mind. The pup accepted the embrace with a gladdened nod.
Then Riga raised an eyebrow.
"What's dancing?"
It sounded like fun!
---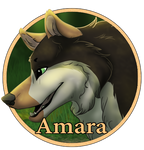 Amara smiled at the young pup and focused as the ceremony continued and the whole pack prepared itself to howl in celebration. She looked down at the pup as she heard her question.
"Dancing is where a wolf moved their body to express themselves. Usually to a song or music. I'll be glad to show you later once your father and mother have their first dance little one. Are you ready though? To howl in celebration?" Amara asked, eyes shining in delight as she looked at little Riga.
---

Amara's explanation provoked further interest in little Riga. Riga was familiar with the song, but what was music? Perhaps it is another form of song?
Her parents hadn't danced themselves? The pup couldn't decide if she should be wary or not. At least not until her parents danced first.
Riga nodded with enthusiasm.
"Y-Yeah!"
---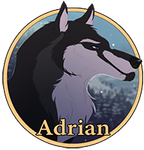 Whereas the world seemed to shine bright surrounding the to-be-wed pair, it did not reach the almost secluded spot that the Master Vicar had set himself on, far from the gathered guests and with a less privileged view. The ceremony was brimming with life and love, however such things hardly reached his heart - in fact, the most true statement was that it actually offended him. Angered him. Even if only so in the very depths of his being, covered and subtle enough not to even transfer to his features. Outside, he was just numb.
It was almost insulting that they'd try pretend things were alright, to shove gloom down and fake that happiness was so close to reach. If Adrian blamed them for that? Definitely not. If he doubted that they were actually worried about Merrill? He also did not. He saw the discomfort on the family's eyes, and he knew they were not being ignorant to her memory. They were just following the normal protocol of refusing to allow pain to reach every corner, though it was not his own usual method of coping with things. He'd rather take it in full force and savor every moment of it.
Understanding didn't prevent him from being grumpy, however, and despite not being so openly irritated, he was not making any effort to look comfortable as well. He was not so insensitive to ruin his nephew and his bride's day with his miserable state of soul, but was incapable of cracking any smile regardless. His solution was to be present physically, even if his soul was in fact somewhere else. Adrian sighed and cast a glance towards his pupil who had been avoiding him for days now, trying to read - even by a split second - what was going on in Raphael's mind. Was the happiness of this moment as ineffective to reach Cricket's heart as it was to him?
---
One of the many things the prince still had to understand, was love; personal relationships, genuine ones, were yet quite a mystery for the young male. He saw that same spark he could now identify in Uncle Kane's eyes, in his own brother's whenever he was close to that outsider, Shoshana; and even if he could spot it amongst a million different looks, the reasoning and cause for it was still unknown.
He had a long way to go when it came to emotional intelligence; he had the diplomacy, just not the… tact. Or the capability to express his own feelings, to be honest.
However, none of this things kept the dark wolf from being happy for his uncle; he had faith the Warden had found joy in Eden, and she would continue to make him happy. That was how weddings worked, right?
Nero's face was stoic, as usual, but the atmosphere surrounding him was gentle and serene, despite the turbulence he continued to fight against since their defeat against those demonic wolves; his posture was straight, squared, proud, no matter how much his hurt shoulder ached. Listening intently to the vows spoken, the Warden's amber gaze remained alternating between the soon-to-be wed.
He represented a dark block beside smaller Shoshana, who in turn sat beside Tzuriel.
How? How come they could all still be so happy, so selflessly joyful for their packmates, despite the recent events? The hope and love Arynians radiated seemed to be truly endless, and Shoshana found herself mesmerized by it. Her green eyes were focused intently ahead, even though they subconsciously flickered back to Tzuriel at her side every now and then; it made her happy, it took away her own pain, to see all the love they still had to give.
They hadn't given up on delight or any of the good things in life, despite their suffering and the evil that still prowled their world; then why should her?
The wedding meant a lot to the brown female, ignoring the fact she barely knew the pair; it was profoundly inspiring. And she even found herself to be softly smiling, eyebrows furrowed in a gentle expression of positive preoccupation. Amused at her own train of thought, she turned an ear over to Tzuri.
"Are you all always so pure?" came her humorous but still sincere question, receiving a side glance from Nero who couldn't approve any less of her rude talking.
This was a serious event!
---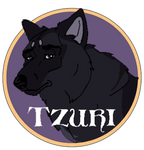 A hearty chuckle rumbled low from the Vicar at Sho's question. Admittedly, he could find no argument against his family's penchant for being "pure". When you lived your life with all four paws firmly on The Path, everything else just fell into place--like happiness. He leaned down to reply to her then saw Nero's look.
Like all brothers the universe over, regardless of shape, Tzuri loved his brother in a 'hit you in the arm' type fashion. This look, clearly towards the brown female, brought the Vicar's protective hackles up. He altered his gaze, aiming questioning eyes at his littermate's scowl.
"Nero? Are you well?" Tzuri asked in measured tones. "You look like you've eaten something disagreeable."
It wasn't exactly tactful, but the Vicar was trying not to cause a scene or start an argument while standing up for his, well, intended.