Kane x Riga x Athena x Alcatraz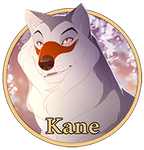 Through all the tragedy that had occurred in the past few days, there seemed to be a glimmer of light, that was blessed by the One. Eden had accepted his proposal to become his mate, and the days until their wedding were fast approaching. The One had also blessed the two wolves in another way, and in the form of Riga. Kane had taken her in as his child, and wanted her to meet not only her Alphas, but Aunt and Uncle as well. Kane knew that Athena and Alcatraz were looking forward to meeting the sweet little wolf, and Kane was excited to have Riga introduced throughout the pack.

Kane was carrying Riga on his shoulders, as he walked slowly to the location of his two family members."Now Riga, these two family members you're meeting are the most important wolves in the pack. They are the Alphas, and they are looking forward to meeting you." Kane looked at his daughter with an assuring smile, as he soon made it to the Warden's Watch, as he looked upon the Lord and Lady of Aryn.

He softly put Riga down, as he gave his Aunt and Uncle loving hugs."Aunt Athena, and Uncle Alcatraz, I'm so glad to see you. I'm very blessed to introduce Riga, my daughter." He then assured Riga to come closer, as he felt excited to see Riga's reaction to her new family members.
---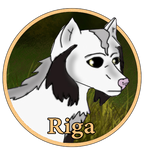 The sun turned the two wolves a brilliance of shaded light, Riga hung onto the large wolf's shoulders as they came nearer and nearer to the den site. Anticipation gnawed at the pups heart, once Kane spoke she realized her heart was pounding. She gave a nod and flinched when she was gently lifted down.
She tucked her tail and licked her lips nervously, one ear lay back.


Riga looked up at her two alphas and gave a forced smile.
---
She was not unaccustomed to tragedy, but the loss of Merrill had shaken the pack to its core. And with every day since passing devoid of any trace to follow the Blutwald renegades, hope had begun to fade. She had prayed for something to salve the wound, and the One - out of wisdom or mercy or both - seemed to have provided.
Kane and Eden had announced their intentions to wed, and as if by some Divine blessing, an orphan had been delivered into their paws soon after. Athena hoped these small favours would help their family heal. And so as Riga looked up at her with uncertainty, it was easy for Athena to greet her with a genuine smile.
She cocked a playful brow at her nephew, and then shared a glance with her mate, before leaning down to nudge the youngling. "Riga, isn't it? A pleasure to make your acquaintance."
---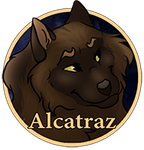 The betrothal of Kane and Eden, and news of a lost pup found and adopted by the pair, had surely been a silver lining in the storm clouds that hung heavy over the grieving and recovering Aryn. And so Alcatraz was more pleased than usual to travel to Warden's Watch in preparation for meeting the new Aryni. Finally it was happy business his mate and he had to attend to.
When Kane approached, Alcatraz wagged his tail slowly in greeting, his ears perking forward with interest. He leaned into his nephew's hug to return the gesture as much as he usually would, though it was Riga who had his attention. He glanced at Athena to meet her pale gray eyes. This is just what we need, he knew in that instant.
He turned his gaze back to Riga. The tiny she-wolf seemed nervous, as was to be expected, but looking into her pale yellow gaze impacted Alcatraz. They had lost one of their beloved pack members, and many were now wounded, but The One ensured that the future had hope, through the blossoming of new love, and the arrival of new life.
Alcatraz was not quite so warm as his mate, but his gruff voice was not unkind. "Yes," he agreed, then added as he looked down at her with a smile, "Welcome to Aryn, little one."
---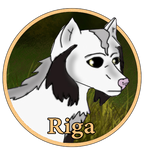 The air had once been tense but once the alphas spoke their greetings, the pup felt more at ease. However an unusual guilt seemed to pull her mind from the present.
Then all at once the memories of the previous night's savaged her newly rediscovered courage.


She felt sick.


Not of illness but of mere regret. She was happy to have found sanctuary in Aryn, but her brothers deaths and the loss of her parents had struck a huge chord in the little pup. Riga still blamed herself for running away that night.
Her posture turned more confident.

"It is nice to meet you, thank you all for your sanctuary"
---
Kane watched with glee as his Aunt and Uncle welcomed his daughter into the pack. He looked at them both, and could tell that this meeting was definitely something that was a bright light with all the troubles that have occurred in the past few days. "I'm glad that the One still blesses our pack. Even in times when everyone seems down, he always blesses us to keep us going."

Kane then leaned down, and gave his daughter a kiss on the cheek. "It's okay Riga, you can give them a hug." Kane then softly nudged his daughter forward, wanting to show her that they were loving and kind to everyone in Aryn, just like he was to him. With everything going downhill, Kane prayed to the One that this child would be the start of Aryn's journey to climb the hill once more, and for everyone to keep their faith in the One.


---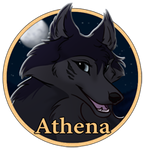 She smirked - such a formal greeting from one so small!
As Kane spoke, the Lady's expression wilted ever so slightly. "As am I, we have been dealt much grief of late… it is good to have a reason to smile again." It did not lessen the pain in her heart, but it did inspire her to keep pressing onward. There was still goodness in this world, and that was enough.
As Kane nudged his daughter forward, Athena chuckled lightly. "You'll be sick of hugs by the end of it! Once you meet the rest of the family, they'll be jostling for the chance to say hello!"
---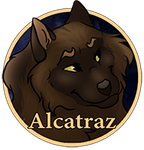 Alcatraz nodded to little Riga in return to her words. She was a strong one, he could see from the bravery in her posture as she faced them. There was no doubt she would find a home here. And her eloquence was impressive. That was a good sign. Well behaved youngsters are always preferable, Alcatraz reflected as he thought back to some of the pack's less-than-obedient youth from the past. Riga, as any pup, would come with her own adventures. Hopefully none too perilous.
Alcatraz let out a wordless rumble of agreement at Athena's words. She had always been more well-spoken than he, and as often was the case she expressed his own thoughts as well as her own. The Alpha male had never been one for hugs, but with Kane in the family it was something he had grown more accustom to, and the last thing he wanted to was to make one of the builders of Aryn's future feel unwelcome! Though Athena was right. With their pack in its current state, Riga would likely never feel unwelcome again.
---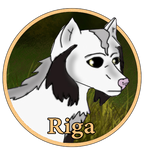 The silver backed pup followed her father's coaxing and hugged her alphas.
The mention of a current tragedy in Aryn made Riga notice the fatigue in her alpha's eyes. However the pup kept herself from saying anything on the matter.
The storm in her mind cleared when Athena changed the subject with a brighter aura.
Riga realized she was still clinging to Alcatraz in a tight hug, she tumbled away from him with a quiet but sincerely embarrassed yip.
She couldn't think of what to say.
---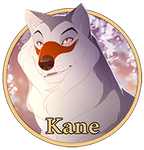 Kane smiled at what his Aunt had said over the events of the last few days. He felt so happy that little Riga was someone who could cheer them up, and bring smile onto their faces. When Aunt Athena mentioned how everyone in the pack will want to meet and hug Riga, Kane couldn't help but chuckle. "Oh, I'm sure she'll love the hugs and attention."

Kane then looked down, as she was hugging Uncle Alcatraz for a long time. She then took a step back, obviously looking embarrassed. "I think someone already loves their Uncle." Kane then reached down, and gave his daughter a kiss. She may have not been his daughter in blood, but Kane already considered her a member of the family, and someone who was precious to him.
---
Athena's smirk widened as the little pup held onto Alcatraz much longer. She did not feel any stir of jealousy - rather a childlike amusement as her normally gruff and indomitable mate became a teddy bear. She knew it was more difficult for him to make these gestures, but reflected that they balanced one another in this way, and that was a blessing in and of itself.
Her thoughts drifted then to Merrill, unbidden, and the reflections of how Adrian's Lilly had changed him before she was taken. Athena's smile faded somewhat, and she came forward to give Kane peck on the ear and a meaningful look. Adored by the pack as a new life would be, there was no telling how far Blutwald might go. One child had already been taken. Riga would need to be protected, constantly, until Aryn's enemies were well and truly vanquished.
---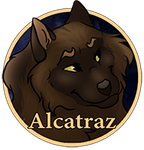 Alcatraz waited patiently as the young one hugged him, lowering his broad head to return the gesture. He could feel her warmth as the life pumped through her, she was so tiny. It always surprised him, even after two litters and one adopted one, how truly small pups were, and it reminded him of how delicate they were as well. As the heartbeats went by Alcatraz became conscious of the length of their embrace. He blinked, his pale yellow eyes flicking down to where the cub nestled against him.
Alcatraz cleared his throat self-consciously, and Riga seemed to notice at once and broke away from him with a small yelp. Alcatraz sat up, his eyes flicking to the two adults as he felt their amusement. And then he looked down at Riga, who looked quite thoroughly embarrassed. He offered her a small smile, and, to ease the awkwardness, he said briskly, "Erm, yes, very well then. You are family now, Riga, so if there is anything you need, you are always welcome to approach us." The statement's intention was to encourage a comfortable environment for the pup as she adjusted, despite the formal words and tone.
---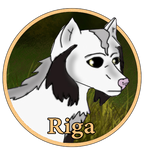 Riga's youthful face was still flushed with embarrassment. However she shook her head and cleared the moment from her mind. She was relieved when her alpha shot her a kind smile and eased her with words of welcome. Alcatraz and Athena: her alphas, were not only that but family. Riga dipped her head in acknowledgement, the long silver tuft of fur that pooled over her forehead covered her left eye.
She sat back and reminisced the early days of her life that had been good. The smells of warm milk and her brothers, of her biological mother and father and of the always soft and cool earth beneath her paws from the moment she entered the world to her first steps into the unknown. She would stay strong for the ones she had lost and now the ones who had snatched her from the brink of certain death.
She was Riga, and she would not fail them.
"Thank you again for accepting me, I promise as a member of this pack I will return the favor and do the best I can"