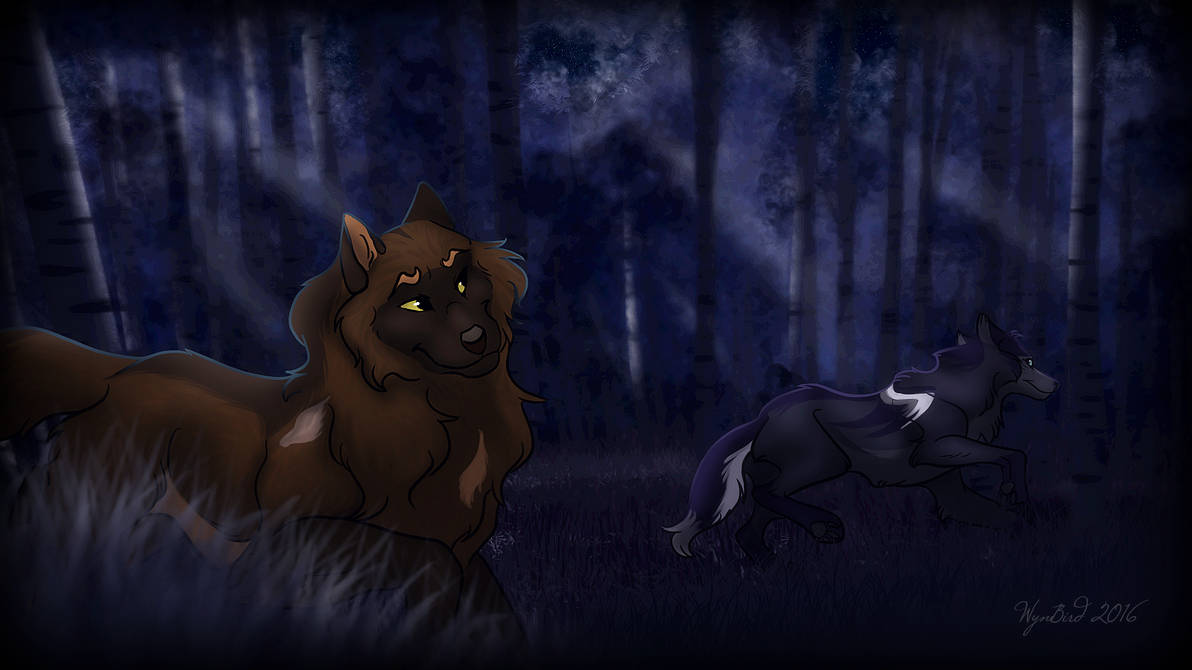 Alcatraz padded into the main den site. It had been far too long since he had spent quality time with his mate. The puppies and of course duties as Alpha kept both of them very busy. But Alcatraz had finally set up babysitters and was determined to spend the rest of the day with Athena. He found her by their den and trotted over.
"Good afternoon, My Lady."
He greeted, bowing respectfully to her, and then he stepped forward to give her muzzle a gentle lick.
"Would you like to take a walk? The pups are being watched, and I think we both could use some time off,"
he said to the Alpha with a smile.


---
With a warm, mischievous smile, Athena dipped her head, giggling at the he-wolf's formality. Traz's presence never failed to excite her, and seeing him so proud and
happy
... it made her feel good about the world. She loved him, deeply, entirely.
"My Lord."
Athena replied, brushing his lip gently with her own muzzle in return.
Her ear folded back at his proposal and Athena glanced briefly over her shoulder across the clearing. With a whole pack to care for, and four young pups besides, Athena had found little time for anything besides the daily rank and file that went into being Aryn's high Lady. It was easy to get swept away in all of it. She didn't resent the busyness, but she did miss the days she and Alcatraz had once been able to share, quiet strolls through the territory with none but the birds to interrupt. She was grateful for her mate's forethought, Athena would never have been able to pull her own self away from their duties. Even when she needed to.
But when he looked at her like that, how could she possibly say 'no'? Tail wagging, she jested,
"Oh, I suppose I have a moment."
Dancing from paw to paw, her eagerness was difficult to miss. If they didn't hurry away, some little emergency would certainly come up to get in the way of it.
---

Alcatraz wagged his tail as she agreed, nuzzling her in return. Clearly she was very excited for their outing, and he was even happier he had put aside this time for them. It was clearly just what they needed. He was as excited as she was.
"Alright, let's go!"
He turned and lead the way into the forest, slowing only once they were out of sight from the others so they could walk side by side. He glanced at Athena sideways with his pale yellow eyes.
"How is Raphael today?"
he asked her. As much as this afternoon was about relaxation, he first wanted an update on his youngest son, who had never been as healthy as his siblings. The Lord often worried about Raphael's health and future, as he knew his Lady worried just as excessively if not more so.
---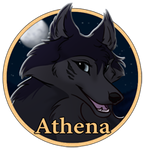 Nimble as a doe, Athena followed alongside her mate into the speckled shade of the fall woods. She felt a relief wash over her as sounds of pack life gave way to birdsong and the crackle of leaves. How long had it been since she walked the path for pleasure? Too long, certainly.
"Much the same."
Athena replied, almost tentatively as though she feared saying so.
"The Vicars still say he needs to put on weight for winter, but getting the child to eat is like arguing with a raven. And he wants so badly to play with the other cubs... like any pup his age should."
Athena's smile had faded. She knew at Raphael's age he should be out running, playing - learning the skills he would need to survive. But he could barely cross the den without falling short of breath, and even the gentlest of wrestling was enough to send Raphael into fits of choking that left him dizzy and weak. She could not help but fear for her son, and yet what could she do to make it right?
"I pray for him. I don't know what else to do..."
---

Alcatraz prowled beside Athena, his gait much more heavy and bear-like than the graceful pawfalls of his dark-furred mate. Alcatraz felt his heart sink at the news. Or lack thereof. He was growing increasingly anxious as the days became shorter and the chills began to bite the land. It had been this way for Raphael's entire life, and things would only get harder as the snows came.
He turned his muzzle to brush his cheek against Athena's.
"I pray for him too. The One will take care of him, I trust that much,"
he said. What else could a father do? Besides pray and trust that Raphael will be alright. Alcatraz had never experienced such pride and love as he felt with his children, but he had also never experienced such concern. He felt like a fretful denmother half of the time when dealing with his sons and daughters, which sure didn't do much to improve his grumpy reputation among his packmates.
But today was not about fretting. He had not gotten them the day of just so they can worry in the forest instead of worry in the den site. He was determined to give his Lady a much need and much deserved good time.
"My Lady…"
he began in a very serious voice.
"I have been hesitant to point out…. I fear that I can run faster than you."
He shot her a sideways glance, a mischievous smile playing at his lips at the challenge.
---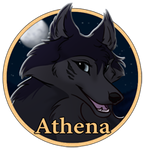 Stiffly, she nodded, allowing herself to believe that it would be true because Alcatraz had said so. Athena could not abandon her worry for their smallest child, but knowing her mate, too, shared the same hopes and fears eased the burden. She smiled at him softly. Alcatraz was everything Athena could want in a partner and more. He completed her. Did he know that?
Athena had been about to say as much, but before she could form the first word, Alcatraz's tone dropped and with it her heart. What? What else could be wrong now?
I fear that I can run faster than you.
For a moment she only gaped, but soon a coy grin was playing at her muzzle.
"Oh?"
She baited, batting her eyelashes,
"Is that so?"
Not waiting for his answer, the dark Lady bolted ahead, her black tail rolling behind her with excitement.
---

As his mate registered his words, Alcatraz almost felt guilty for she clearly had expected even more to be wrong. But it made it all worth it when finally she gave him a playful smile.
There she is,
Alcatraz thought lovingly as she answered him, her voice smooth and sweet as honey as she blinked her two eyes of celestial moonlight, a spark in them that had been absent for so long before.
There is my Athena.
He was the one who was left gaping, however, when she bolted ahead without another word.
"Hey!"
the big male threw himself forward after her.
"Get back here!"
He cried, racing with his paws drumming heavily on the ground. It was true that Athena was slim and athletic, and surely much faster than the burly Warden, but Alcatraz could reach rather quick speeds himself in short bursts. So he threw everything he had in his strides. All the months and months of fear and stress and anxiety and helplessness. His fur bristled with the exhilaration as he flew through the forest after his mate.
---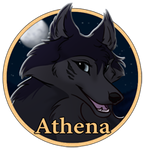 "Why don't you make me?"
She threw back, giving in to the thrill of the chase. Weeks of pent up frustration blew away with the wind, as Athena flew between the trees. The dark lady glanced behind her briefly, visibly surprised to see Alcatraz gaining. Had he always been so fast? She must be getting out of shape! This called for strategy!
Giggling like a pup, she darted suddenly to the side, vanishing into the foliage, stifling her laughter as she scurried into the shadows. Traz would have to stop, and when he did, Athena was ready to creep behind him. Wouldn't he be surprised!
---

Her slender form was growing closer to him as he struggled to catch up, his eyes fixed on her, no one but her, nothing but her. His dark goddess, and he wanted to catch her! She glanced over her shoulder and their eyes met, warm yellow against shining misty moonlight. And then she darted to the side, slipping into the spring green shadows of the forest.
Alcatraz skidded to a halt, about to leap after her but the sound of her muffled laughter sounded from nearby and he turned in place, his eyes searching the undergrowth. Her giggles sounded like a siren's song, luring him on with it's light, playful joy. He eagerly searched.
His ears swiveled around to locate her, but she was silent now. All that remained with the faint lingering aroma of his lady's sweet scent wafting around him. He tried to locate the strongest scent, and then walked a few steps in the other direction,
"Where has my Lady gone?"
he wondered out loud, and then he whipped around and charged blindly toward the scent in hopes to catch Athena off guard.
---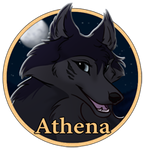 She smirked from her hiding place as he called, watching with impish delight as the Lord searched for a trail to follow by. Being sought after gave her thrill all its own - especially by this wolf, who's sleek figure rippled under the fading forest light like a demigod from a den-story. He was hers, and she was his, and all was exactly as it should be in that moment.
Her eyes lit up like stars as Traz feinted, springing out of the foliage and past his reach before he could stumble across her.
"She's right beneath your paws!"
The dark Lady cooed, spinning around again abruptly to meet him nose-to-nose.
---

Alcatraz skidded to a halt, startled as she flew gracefully from the undergrowth, cutting him off and landing out of his reach. He went to follow her again, but stopped even more suddenly as she spun around, only just barely stopping in time so not to crash into her. Their muzzles were a whisker apart and their eyes met. He narrowed his own slightly, smiling softly, then closed them and leaned forward. He gave her muzzle an affectionate lick.
"If only… I could catch her,"
He drove forward suddenly with paws outstretched in an attempt to knock her over and catch her at the same time.
---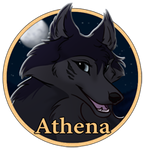 She laughed in surprise, nipping at her mate's neck to pull him down with her, as his charge sent Athena to the forest floor. They went tumbling, head over heels, and she felt light and free in the fall. The ruckus disturbed the fireflies hiding under brush, sending the flashing insects into the air around them, flickering like little stars. Their home was a cathedral of stones and leaves, a wild and blessed beauty under the night sky.
Athena rolled to a stop covered in grass and leaves, and Traz looked much the same. Her silvery gaze narrowed with gentle affection as she looked up to her lover, kissing him softly on the cheek.
"You only needed to ask..."